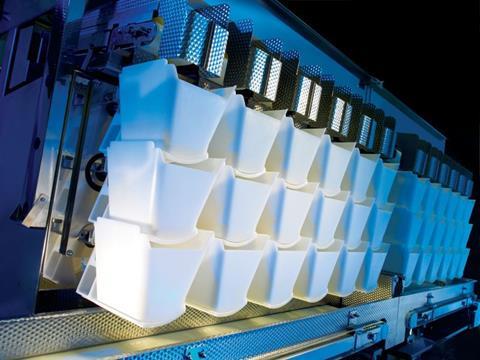 The latest developments in multihead weighing, traysealing and inspection systems will be showcased by Ishida Europe at this year's PPMA Show.
Highlights include Ishida's advanced QX-775 traysealer integrated with its AirScan leak detector, and a quality control solution combining the company's latest x-ray inspection system with its DACS checkweigher with Retail Reject Confirmation. The two multihead weigher models on display showcase the breadth of the company's range, with the recently introduced high performance CCW-RVE mid-range model and the unique six-head Fresh Food Weigher (FFW)
The Ishida IX-GN-4044 X-ray inspection system provides excellent sensitivity in the detection of a wide variety of foreign bodies in both packed and bulk food, with the ability to find even the tiniest amounts of steel, aluminium, tin, glass, stone, hard rubber, plastic, bones and shells at high inspection speeds. The Ishida Genetic Algorithm (GA) technology enables the machine to be trained to more easily detect specific contaminants and the system can also provide a variety of other quality control functions such as spotting deformed or missing product and weight estimation.
The DACS-GN-SE has been developed as a high-value economy weigher combining exceptional speed and accuracy at an affordable price. An intuitive, menu-based display ensures ease of use and fast set-up, and an open frame design provides easy cleaning. The checkweigher on display is specified with Retail Reject Confirmation software to help food manufacturers meet the latest retail codes of practice.
Capable of sealing MAP (Modified Atmosphere Packaging) trays at up to 15 cycles per minute, Ishida's QX-775-Flex traysealer offers a compact design, maximum hygiene and high quality pack and product presentation. It is suitable for products such as ready meals, meat, poultry, fish and salads, and compatible with standard MAP, skinpack and shrink film applications.
The Ishida AirScan minimises spoilage in a wide variety of pre-packed retail food products where CO2 is used as part of the MAP process. It uses advanced laser technology to identify leaks of CO2 from holes as small as 0.25mm in sealed MAP packs at speeds of up to 180 packs per minute, ensuring that maximum quality can be achieved without compromising on high throughput speeds.
Key to the excellent performance of Ishida's CCW-RVE-214W multihead weigher is the incorporation of several advanced features from Ishida's top-of-the-range RV multihead weighers, including programmable digital filtering and advanced automatic feeder adjustment. The weigher is ideal for the weighing of free-flowing and semi-sticky products for a large number of dry, fresh and frozen food applications. RVE weighers can be tailored to individual product requirements with a top speed of up to 120 weighments per minute depending on the model and application.
The 6-head CCW-R2-106B Fresh Food Weigher (FFW) is designed for all types of sticky fresh and fragile products and smaller production batches. Product is typically delivered by a conveyor belt to the top of the weigher. An operator then evenly distributes it via six belt feeders to the weigh hoppers to ensure an even distribution, helping to increase both the speed and efficiency of the weighing process. Special scrapers on the plastic hoppers minimise product sticking to the contact surfaces.
All Ishida equipment can be specified with the company's remote customer care software solution, Sentinel™, which combines machine performance monitoring with comprehensive data capture and in-depth analysis. This enables manufacturers and packers to operate their lines to maximum performance and efficiency, and avoid unnecessary and unwanted downtime. Ishida Sentinel™ software connects compatible Ishida machines, anywhere in the world, to a central system manned by Ishida engineers. This provides complete monitoring of machines, however widely distributed, with Ishida experts on hand to identify and rectify any faults or poor performance. The Sentinel™ software will be demonstrated on the Ishida stand at the PPMA Show.