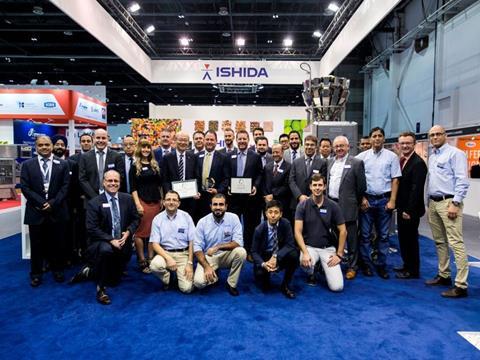 Ishida Europe's innovative RobotGrader has been named winner of the Robotics Industrial Vision category at the debut of the Gulfood Manufacturing Industry Excellence Awards in Dubai.
The RobotGrader combines weighing and pick and place technologies to grade protein products of varying weight and pack them to a fixed weight straight into a tray. The system reduces giveaway to less than 1% per pack and correctly places and orientate the pieces, at speeds of up to 320 pieces per minute.
By comparison, a manual operation can be a very labour intensive with a single operator only able to pack 30 pieces/min, while overfill can be anywhere from 5% to up to 10%.
The RobotGrader can be incorporated into Ishida fresh food packing lines alongside other Ishida equipment, including X-ray systems, tray sealers, seal testers and checkweighers, to provide bespoke solutions, tailored to individual customer requirements.
Ishida was also able to secure a Highly Commended Award for their revolutionary leak detector, Ishida Airscan, which helps food manufacturers minimise spoilage in pre-packed retail products. Ishida Airscan took the highly commended prize in the Production Protection category.
The Ishida AirScan offers fast, 100% reliable and completely non-destructive identification of leaks of C02 and has been designed to be highly effective in fast moving production environments so that maximum quality can be achieved without compromising on throughput.
The Ishida AirScan is part of Ishida Europe's quality control range, which also includes X-ray inspection systems, checkweighers, weigh-price-labellers, seal testers and vision systems.
"Winning these prestigious awards at the inaugural event are a testament to the hard work and commitment of our team. They've worked hard to protect our customer's brands and develop innovative solutions for the poultry and meat sectors." Comments Jeff Say, General Manager, Ishida Middle East and Africa.
More info: