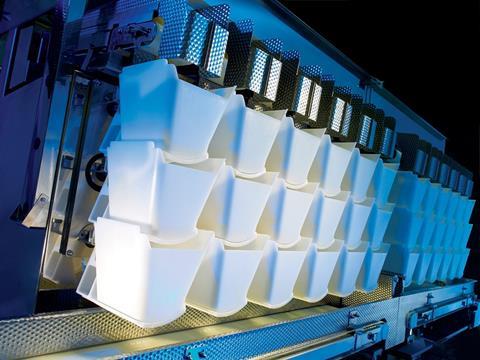 Ishida's IX-G2 x-ray inspection system offers the highest level of quality assurance to processors and manufacturers of complex products. Its dual energy technology provides highly effective X-ray detection of low-density objects, even in varying thickness or overlapping products, making it particularly appropriate for the detection of small bone pieces in meat and poultry fillets.
The 14-head CCW-RV-214WN 'Micro' weigher has been designed to handle very small pack weights of between 0.5g and 40g, delivering speeds of up to 120 weighments per minute with unsurpassed accuracy to within 0.01g. It is ideal for products such as herbs and spices, tea leaves, soup ingredients, dehydrated vegetables, seeds, tablets and capsules.
For fragile products such as biscuits, Ishida has developed a 14 head RV model which incorporates gentle slopes and reduced angles to ease the passage of the products throughout the weigher. Curved pool hoppers and weigh hoppers also allow product to roll and settle gradually, further minimising the potential for breakages.
The 6-head CCW-R2-106B Fresh Food Weigher (FFW) is designed for all types of sticky fresh products and smaller production batches. Product is typically delivered by a conveyor belt to the top of the weigher. An operator then evenly distributes it via six belt feeders to the weigh hoppers to ensure an even distribution, helping to increase both the speed and efficiency of the weighing process. Special scrapers on the plastic hoppers minimise product sticking to the contact surfaces.
More info: