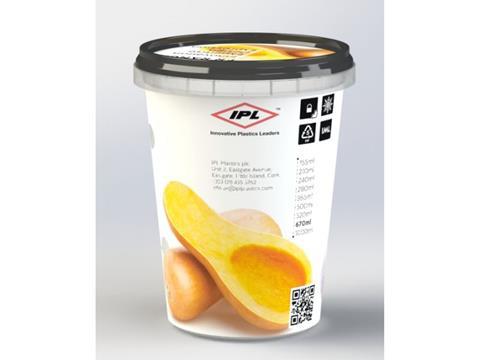 IPL Plastics Ltd is launching two new sizes of containers for the food industry that are both tamper evident and IML capable, for products such as soup, sauce, dips and gravy in the UK and Europe.
Complementing its existing food range packaging brand new tooling has been developed at the Protech Plastics Cork facility to produce these high quality containers, available in 365ml and 670ml capacities for the consumer market. With a large output and capacity, coupled with low minimum order requirement capabilities, Protech's supply and logistics arrangements allow for any order size.
Both products will not panel under hot fill / blast chilling operations due to innovative design features. Available in high-clarity polypropylene or in an unlimited range of colours, these tubs come unlabelled from stock allowing for off line post mould labelling or printing, as well as high definition premium IML decoration across the range (tub and lid).
IPL Plastics offers the food manufacturer a broad range of standard sizes with no investment and with the option to have custom made IML labels applied during moulding. IML offers the highest level of decoration, with the best quality representation of customer products for all industries, giving the product the greatest chance to stand out on the shelf. Retailers and consumers alike will appreciate the visual appearance of the product, which will ultimately help drive sales.
IPL Plastics operates a dedicated manufacturing facility with BRC Grade AA accreditation specifically for the production of its food grade, food packaging products. The company always strives to improve processes and services to the food industry so the customer can always be assured of receiving product manufactured to the highest standards of cleanliness and hygiene, along with world class customer service.
Jamie Clark, Director of Retail Sales at IPL Plastics Europe, commented:
"These two new sizes are a welcome addition to our existing food range, which are all now IML-capable. Our dedicated team at Protech Cork has developed these containers with food manufacturers in mind ensuring they can be hot-filled and with highly effective and easy to operate tamper-proofing."
Jamie continued:
"We now have a very diverse range of food packaging items which complement our existing range of dairy and food containers, all manufactured in a brand new BRC Grade AA accredited production environment."
More info: