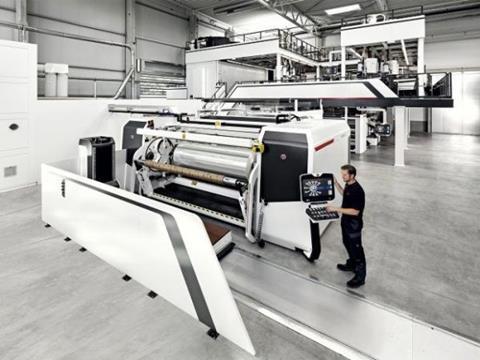 As a leading food packaging producer in the high-growth CEE region, Supravis Group is well positioned to take advantage of new developments in the European flexible packaging market, much thanks to its aggressive investment strategy.
Still a family-owned company with over 30 years of specialized experience, Poland-based Supravis is emerging as a major European player with far-reaching aspirations. Having originated as the first and largest producer of polyamide casings in Poland, since 1998 the company has focused on developing a wide portfolio of barrier packaging films, which today includes thermoforming films, laminates, shrinkable sleeves and high-tech printing and laminating capability.
Coinciding with the 20th anniversary of its first expansion into films extrusion, in the first quarter of 2018 Supravis will launch a brand new, 11-layer high-barrier cast film line, which will be the most technologically advanced installation of its kind in the world. "We currently operate two barrier cast film lines, so investing in a third was a natural step for us. We not only have vast experience in the process itself, but our unique know-how also allowed us to work with the line manufacturer on fine-tuning the most minute details of the new machine so it is tailor-made to our requirements" says Tomasz Konczal, Supravis Production Director.
The new installation will add 10,000 tons of thermoforming films capacity, thereby doubling the existing production of the company. It will also allow for the development of completely new film structures, many of which are not currently offered in the market. Krzysztof Konczal, Sales Director at Supravis admits that "a few years ago it was difficult to explain the benefits of an 11-layer structure to some clients, but today the market has grown to understand that these high-technology films provide superior performance at a reduced cost, translating into considerable savings for food producers".
While being a strategically important step for Supravis, the 11-layer cast film line is only one part of its ambitious investment program. In 2015, the company strengthened its high barrier laminates division with investments in a new 10-color flexographic press, a high-speed laminating machine and most importantly a 9-layer blown film line, which today allows the company to develop all of its barrier films in-house. That year the company also added an 11-layer shrink sleeve line to complement its existing 7-layer installation. In mid-2018, the company will commission an additional shrink sleeve line, bringing the total value of investments to over 25 million EUR for the three year period.
Mateusz Gasior, CEO of Supravis Group, sums up this process by saying that "even though these investments are impressive in terms of timing and monetary value, they are actually a reflection of quite a conservative strategic approach, wherein instead of branching out into new market segments, we focus on our specialty areas and invest with confidence in things we are good at".
With a global client base and close to 60% of its revenues coming from exports, Supravis Group is set on increasing its share in existing markets as well as challenging leading players in new regions. Taking advantage of its competitive cost base and convenient location at the heart of Europe, the company looks to be a major beneficiary of the high growth potential in the industry.
More info: