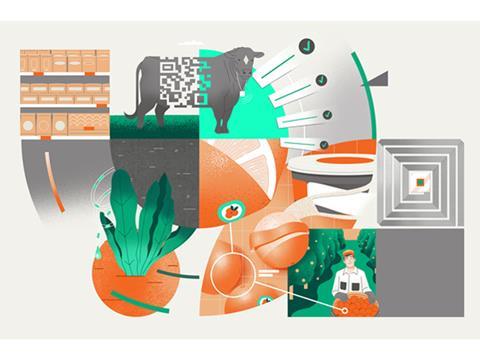 A new position paper from Avery Dennison, The New Transparency, highlights the growing importance for brands of consumer trust, and outlines how the introduction of digital identity technologies can enable transparency 'from raw materials to end product and beyond'. Victoria Hattersley spoke to Tyler Chaffo, Manager of Global Sustainability, Intelligent Labels, to learn more about the thinking behind this campaign.
VH: Firstly, what is the 'New Transparency' and why is transparency more than just a 'buzzword' here?
TC: The New Transparency is where cutting-edge solutions are enabling businesses to offer consumers a higher level of trust than ever before. What makes it 'new' is the level of sophistication that's now possible - true end to end traceability of products from raw material to shop. It's not a buzzword, rather something that is here to stay and we believe technology can be a force for good and enable a better tomorrow. A Portrait of a Supply Chain is an expression of this vision, a future where technology can drive positive change both for the people and for the planet.
VH: Can you explain the benefits of greater supply chain transparency in terms of sustainability, security, social responsibility and brand strengthening?
TC: The introduction of digital identities is a 'game changer' which offers consumers the highest standards of visibility, safety, education and authenticity possible, while giving businesses complete control over their supply chains. Consumers are increasingly demanding to know exactly where the products they enjoy come from. They want to feel comfortable that they have been ethically sourced and indeed researchers at the MIT Sloan School of Management found that consumers may be willing to pay up to 10% more for products from companies that provide greater supply chain transparency.
VH: How have the lessons learned from the Covid-19 pandemic informed the development of the campaign? Do you think the crisis will lead to permanent changes?
TC: The pandemic has forced all organizations to get a grip on their supply chains. I never thought that conversations around supply chains would become part of everyday chatter amongst the public but when we're talking about getting food and medicines in our hands it makes it very real. Change has been happening rapidly across industries, from beauty and retail to materials and food and drink even pre-pandemic but what we have definitely seen is that plans are now being brought forward and the pandemic has acted as a catalyst for quicker decision making.
VH: For those unfamiliar with the technologies involved, can you explain the role of digital supply chain solutions such as intelligent labelling in ensuring greater efficiency and transparency along the supply chain?
TC: Yes, it is a full journey from raw material to production and even end of life of the product. A variety of different technologies can be used to track the product as long as the intelligence around it is centralized. But the journey could consist of an origin scan of a unique digital identity allowing customers to understand provenance related information of the product; how was it made, was it made sustainably and ethically, if it is a product that expires we can track the data it was created for expiry management, what % of recycled content does it have, etc.
As the product moves through the supply chain event-level data such as RFID scans at DCs and fulfilment centres can update the digital ID with the latest Information. At retail, inventory availability can be shared with customers to highlight where products are available. When the product has reached the end of its useful life the unique digital identity can be used to highlight what to do with the product based upon its journey - send for recycling, resale market, etc.
VH: Aside from digital labelling, what are your views on the potential for technologies like blockchain to increase transparency?
TC: Blockchain has the ability to make what would normally be invisible...visible. It can even help protect the rights of those that have been disenfranchised. For a few years now blockchain has been used in countries in Latin America and South America to protect land ownership of indigenous populations. Populations that normally would not have the legal recourse to protect those rights. However, the distributed ledger system has now given them that visibility and authentication. This has a double benefit for sustainability as returning land management to indigenous populations was one of the top solutions identified by Project Drawdown. The UN has created a blockchain framework, 'goLandRegistry' to maintain property rights in war-torn Afghanistan.
VH: How do you expect digital supply chain technologies to increase in sophistication in the coming years? Are there any game-changing innovations on the horizon, and what practical steps must the industry take?
TC: I believe that digital supply chain technologies will continue to evolve, at an increasing rate, allowing for greater visibility into supply chains in real time. I expect that visibility will continue to get more granular, more accurate and more immediate.
I'm excited for the potential that digital supply chain technologies will have with further enabling sustainability. The ability for companies to accurately measure, improve, and report their sustainability progress will undoubtedly be benefitted by these innovations. One example is a carbon token that will allow carbon producers to accurately and efficiently buy and sell carbon credits further enabling large carbon producers to offset this footprint. Not only will this allow for easier carbon offsetting but also more accuracy that stands up to outside scrutiny. I also believe that these innovations will provide levels of visibility to all stakeholder groups; investors, consumers, employees, etc., not just the select, which will allow for increased levels of confidence and support.
There is certainly some progress that needs to be made in order to make this happen. For one, different parties in the supply chain need to get more comfortable with collaboration and freely sharing information. One of the shortcomings of blockchain is that it is often limited to the information being supplied to the chain; in other words 'bad data in is bad data out'. Companies need to also get more comfortable sharing information with the market in general and potentially collaborating with competitors to solve industry challenges. We're seeing this now in the recycling industry and in general with enabling the circular economy. Overall, there is a need for greater standardization and a common language to enable transparency.