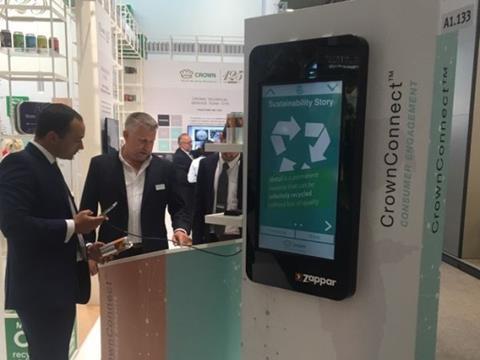 Didier Sourisseau, President of Crown Europe examines how metal packaging is embracing the Internet of Things, bringing new benefits to brands and consumers alike.
Once a term exclusively referred to in the future tense, the Internet of Things (IoT) – essentially a network in which physical objects can exchange data internally or with other connected machines – is quickly becoming reality. For brands, access to reliable, accurate data is imperative for driving marketing activities and managing complex supply chains. Smart packaging, and intelligent packaging in particular, serves as the connection between these two worlds and plays a pivotal role in data capture. As a category, smart packaging is growing at a staggering rate, according to "The Future of Smart Packaging to 2021" report by Smithers Pira, with the sector currently valued at an estimated $5.3bn and expected growth of 8%, taking it beyond $7.8bn by 2021 .
Metal packaging lends itself well to IoT-based activities, offering a number of options for code placement, such as QR or Data Matrix codes, on a variety of formats. Incorporating IoT features further expands the value metal offers as a packaging substrate, with other key attributes including superior sustainability credentials and portability.
IoT Enables ConnectivityOverall, IoT provides a unique way to enhance consumer experiences as well as to provide tangible data to a brand. By introducing a unique code on a product's packaging, brands can connect directly with consumers. These codes can be used as part of promotions or competitions, or to provide details about a product's authenticity, nutritional information or allergen information.
So how does it work? First, a brand must create a cloud-based platform to manage the codes and data. This can be either done directly by brands, or can be carried out by a third-party supplier, which is often the case. The brand then orders coded packaging from its supplier, who will request unique codes from the cloud platform and incorporate them into the production run. If the codes are printed in a location from which they can be scanned (e.g. they are visible and not concealed underneath a tab or end), the filling plant will scan them and send the subsequent traceability data to the cloud. Following distribution, the products will reach consumers, where each unique code is read and scanned, usually via a mobile phone application, which must also be developed separately. The code is recorded in the cloud and the corresponding data gets sent back to the consumer. Ultimately, the consumer receives an enhanced and customized experience, while the brand has access to live data, whether from along the supply chain or directly from consumers via their IP address.
Data Capture from ConsumersThe level of data that can be captured adds considerable value to a brand, as it helps tailor approaches for future consumer interactions. The unique code can also capture finer details such as location, the weather at time of scanning and even the time of consumption, which further helps understand consumption habits. The success of individual campaigns can be easily monitored, and marketing teams can then create content based on what works best when incentivizing consumers to scan the codes.
For the greatest levels of data and effectiveness, it is advisable to adopt an 'always on' approach. This means that codes must be used all the time across a brand's offering, rather than a one-off promotion for the summer, for example. To stimulate customer engagement, brands need to ensure content is current and relevant. It is a good idea to include several non-monetized options to ensure consumers do not feel pressured into purchasing products.
Developing proprietary software also means that any data captured will belong to the brand instead of a third party capturing the data and subsequently charging a fee for its use.
Operational DataIf used correctly, IoT technology enables brands to regain full visibility of their supply chains. If stockists and retailers are encouraged to scan the IoT codes, products can be easily traced, and volumes controlled more efficiently. An increase in consumption could be identified, for example, via consumer interaction, meaning retailers can prepare and re-route goods accordingly before the purchasing increases even begin.
Unique codes can also verify the authenticity of products and help with monitoring diversion. For example, if a product has been shipped across borders illegally, scanning the code could enable a retailer to identify that product has not arrived via the correct channels. Also, if a code is used more than once, the system will be able to alert the relevant parties and highlight counterfeiting. Incorporating traceability data will help identify where a product was diverted, enabling further investigation. Likewise, a simple scan enables a consumer to check the authenticity of a product. This is a particularly attractive feature with products such as infant formula, where parents are rightly cautious.
Quality ControlIoT can also help minimize the impact of a product recall, which can damage brand reputation and cost a considerable amount of money to implement and manage. Using beverage cans as an example, unique codes can help manufacturers pinpoint exactly which units are affected and initiate a recall by alerting the purchasing consumer directly via the code. Consumers can be advised to return the product and be compensated with a replacement, voucher or gift. This helps keep the consumer happy, strengthens brand loyalty and ultimately fosters a better brand image.
If the unique codes have not yet been scanned by consumers, there may also be an opportunity to locate the products before they are sold, negating the need to go public with a recall at all. This, of course, is the ideal situation, as costs can be avoided or reduced, and brand reputation protected.
Augmented Reality (AR)Augmented reality is seeing increased use across multiple industries, including packaging. It is now possible to expand customer experiences by leveraging mobile devices to layer a virtual product or experiential content on top of the real world, so that they appear to exist in the same space as the consumer.
Interactive applications, downloaded onto a smartphone or tablet, for example, can use the graphics applied to a tin at the decoration phase of manufacturing as an interface, enabling the user to see through the packaging to the contents inside. The apps can also access a wide range of content created for promotional campaigns. Implementing the technology, which provides brands with valuable purchasing data when used as part of creative promotional campaigns, does not require any changes to the filling process, with costs being kept to a minimum.
An IoT Vision for the FutureIt would natural to believe that at some point in the near future, all packaging will be given a unique ID as part of the manufacturing process. This would enable packaging to interact with smart devices in the supply chain, for consumer use and during recycling. Unique IDs enable distinctive interactions and offer a wide range of benefits. Implications for the packaging industry are also wide ranging, as each party in the chain will see benefits from using the technology. These forward-thinking initiatives will become part of our daily lives – just as packaging already is – and Crown intends to be at the forefront of the industries and markets it serves.