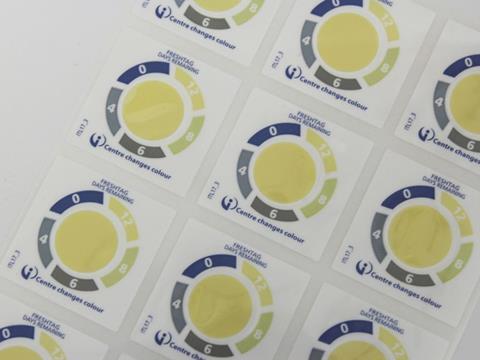 Insignia Technologies, a developer of pioneering labelling technology to detect when food is past its best, has won global recognition for its Freshtag product with an illustrious award win.
The Scottish company won a Gold award at the industry-leading Dupont Awards for Packaging Innovation for the technology behind its Freshtag label. The Freshtag is an innovative new time and temperature monitoring system that links together the entire supply chain from point of production through to restaurant/store, which ensures food is consumed at optimum freshness and can significantly reduce unnecessary food waste.
The label changes colour over a pre-set number of days at a specified temperature. The colour change speeds up if the temperature increases, allowing breaches of temperature to be highlighted. The low cost of the labels allows them to be used on individual items/cases of produce in shipments.
The Freshtag inspires good behaviour in the supply chain ensuring that correct temperatures are being maintained, so enhancing food safety and potentially allowing the customer to extend shelf life. The visual nature of the Freshtag also helps improve stock rotation to ensure the freshest product is available.
David Kilshaw, CEO of Insignia Technologies, said: "The winners were selected from nearly 150 companies spanning 24 countries by an independent panel, so it is an impressive achievement for Insignia.
"It is a great endorsement to the potential of the technology we've developed. Reducing unnecessary food waste is one of the greatest economic and environmental challenges the world faces and the Freshtag technology should prove a valuable tool in helping to address this."
Insignia, a spin out of Strathclyde University, specialises in smart pigment technology and has developed this range of time temperature indicators over several years. The recognition from DuPont follows on from previous awards at the UK Packaging Awards in 2013 and 2016.
Bernard Rioux, Global Packaging Leader at DuPont, said: "The DuPont Awards for Packaging Innovation demonstrate how creative, committed and agile the packaging industry is in addressing global issues and consumer needs.
"This competition brings out the very best of everyone in the packaging industry, and we are thrilled to see innovators raising the bar each year."
Now in its 29th year, the DuPont Awards are the industry's longest running, global, independently judged celebration of innovation and collaboration throughout the value chain and is widely recognised as the leading awards programme in the sector. The international competition recognises innovations in packaging design, materials, technology and processes.
More info: