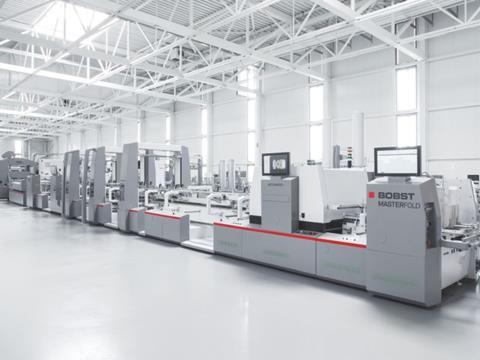 The 2018 Print4All exhibition takes place from 29th May to the 1st June in Milan, Italy, with a new extended format offering a wide showcase of printing and converting technologies in all market segments.
The BOBST stand E23/D24 in hall 18, will show innovative and efficient solutions and applications in the flexible material, folding carton, and corrugated board industries.
This includes the very latest developments in the series of new BOBST web-fed technology products and process solutions introduced since last year. For example, there is the very latest 20SEVEN CI flexo press, which was launched in February 2018 and brings the advantages of process consistency and repeatability to a new level with both conventional or Extended Color Gamut printing.
In the narrow-web segment, the unique process performance of BOBST inline UV flexo printing presses and the Digital Automation concepts will be highlighted. In coating and vacuum metallizing the solutions presented will highlight the wide range of market segments and applications served by BOBST equipment. These include the extended portfolio of CO coating solutions, the new K5 VISION vacuum metallizer and dedicated processes like the AluBond® for enhancing substrate functionalities.
For gravure and lamination, visitors will be able to see live the advantages of BOBST technologies for flexible packaging from the actual machines in operation, by visiting the Competence center of Bobst Italia's production plant in San Giorgio Monferrato.
In the sheet-fed sector, BOBST will emphasize the latest equipment and systems delivering the highest performance in manufacturing productivity and quality in die-cutting, folding-gluing and hot foil stamping. These include the exceptionally productive MASTERCUT 106 PER 3.0 die-cutter with a production speed up 11,000 sheets/h - all day, every day - and the MASTERFOLD 75/110. Both are a new generation of machines, leading innovation in die-cutting and folding-gluing respectively. The MASTERFOIL 106 PR, the latest generation of high performance hot foil stampers, will be included in this group of machines combining efficiency and quality. In-line systems such as the ACCUCHECK for zero fault packaging, the ACCUBRAILLE GT for Braille embossing and SPEEDWAVE 3 for high-speed production of crash-lock bottom boxes, will also be part of the products highlighted in the sheet-fed sector.
Also showcased at Print4all will be the extensive range of BOBST equipment service packages and connected services for remote monitoring and troubleshooting, designed to enable users to maintain installed equipment in the best condition and at optimum production levels.
More info: