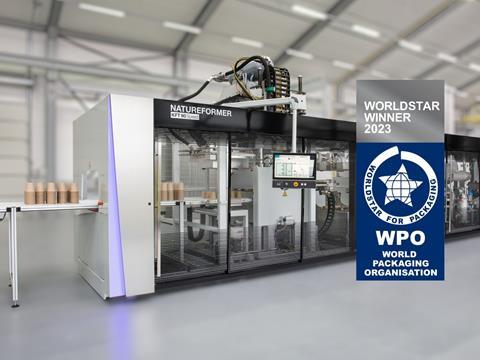 KIEFEL GmbH, a market leader in the design and manufacture of polymer and natural fiber processing machines, automation and tools, will mainly be digitally exhibiting its extensive portfolio of cutting-edge and sustainable solutions for various industries in Hall 8a / C57 at Interpack 2023 in Düsseldorf, Germany. Product samples such as cups, trays, bowls or coffee capsules made of natural fibers, recycled and recyclable polymers or bio-based material will be on display too.
"At Interpack 2023, one focus will be on the machine series for the production of biodegradable natural fiber packaging. We are delighted to receive the WorldStar Award 2023 for our NATUREFORMER KFT 90 machine at this trade fair as recognition of Kiefel's commitment to sustainable packaging solutions," says Cornelia Frank, Global Director of Fiber Packaging at Kiefel. Kiefel Fiber Thermoforming allows the manufacture of sustainable packaging such as bowls, cups, lids, coffee capsules, packaging for frozen food, among others.
Additionally, Kiefel's SPEEDFORMER KMD 78.2 SPEED and SPEEDFORMER KTR 5.2 machines for the efficient production of polymer trays and cups, respectively, are being displayed.
Visit Kiefel at the Brückner Group booth Hall 8a / C57.