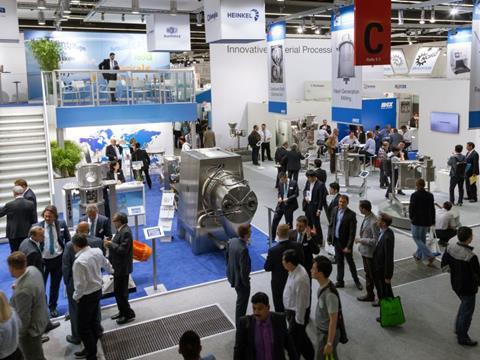 At ACHEMA more than 3,700 exhibitors from 55 countries showcased the latest equipment and innovative processes for the chemical, pharma and food industry.
"The exhibitors we talked to as well as we ourselves, had a very successful show", said Jürgen Nowicki, Chairman of the ACHEMA Exhibitors' Committee and Speaker of the Linde Engineering Board. "Exhibitors' feedback has been very positive", agrees Dr. Thomas Scheuring, CEO DECHEMA Exhibitions. "The first results from the exhibitor and visitor survey also show that both sides were highly satisfied".
A very visible trend this year: At many stands the visitors could experience plants and equipment in "augmented reality" with the aid of special goggles or even test their aptitude in completely virtual surroundings.
The three focal topics were very well received. Under the motto "Flexible Production" numerous exhibitors showed modular solutions and intelligent components for the plant of tomorrow. "Biotech for Chemistry" comprised process development and equipment from the lab to the fermenter that integrate biotechnological methods into the chemical industry. "Chemical and Pharma Logistics" put a spotlight on the advancing integration of the supply chain and attracted new target groups that are increasingly not "only" service providers but systemic partners of the process industry.
A certain drawback for the organizers has been the decrease in visitors to about 145,000. The organizers explain this partially by the more complex registration procedure that had to be introduced due to the increasing security requirements for large events. "That certainly prevented some spontaneous visits", says Dr. Thomas Scheuring. "Nevertheless, we will analyze the numbers very diligently."
In the congress programme, especially digitalisation, but also presentations on energy drew large crowds. The PRAXISforen that were introduced in 2015 have been received very well; the events that are located closely to the respective halls that bring together users and suppliers attracted many visitors.
Next stop for the process industry is AchemAsia that takes place from 21-23 May 2019 for the first time in Shanghai. The " International Expo and Innovation Forum for Sustainable Chemical Production in China" focusses on the current trends of the process industry in China and Asia.
The next ACHEMA takes place from 14.-18. June 2021 in Frankfurt.
More info: