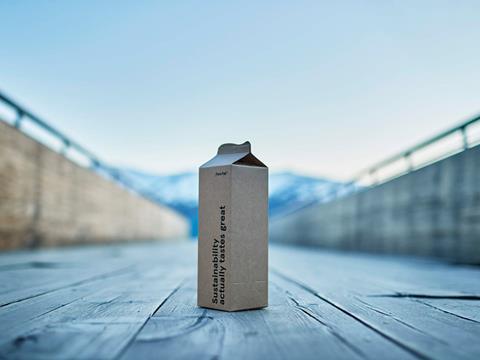 Among those to have adopted the Pure-Pak® Imagine carton is multinational dairy cooperative FrieslandCampina. Campina Organic is now available in the more environment-friendly packaging in line with the dairy's 'Nourishing a better planet' sustainability programme. The new packaging saves 38% CO2 emissions compared to the old packaging, with the remaining emissions compensated to ensure it remains climate neutral.
When it comes to innovation Elopak works closely with its customers to help them achieve their sustainability goals by reducing the overall environmental footprint of a finished product. Elopak cartons also help keep the product itself safe and fresh, minimizing waste while supporting the effective communication of the brand's commitment to sustainability.
While Elopak's Pure-Pak® cartons are already renewable and recyclable, the company continues to push itself to become even more sustainable. Having reduced emissions by 70% between 2008 and 2018, Elopak is now working towards a 55% reduction of internal emissions by 2030, and a 16% reduction across the value chain by 2030 from a 2017 baseline in line with its status as one of the first companies to have signed up to the Science Based Targets initiative commitment to keep the rise in global average temperature below 1.5°C.
This content was sponsored by Elopak.