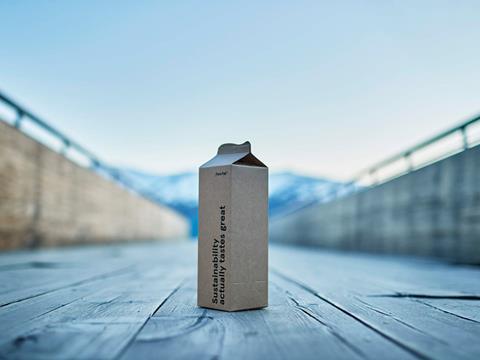 In this Innovation Spotlight, Elopak introduces its mission to ensure the beverage cartons it produces and the company itself are as sustainable as possible.
Elopak was the first carbon neutral company in the industry to offer carbon neutral cartons and the first to produce fully renewable cartons made entirely from wood.
Beverage cartons have strong environmental credentials when compared with alternatives such as plastic bottles. A 2018 Lifecycle Assessment study showed that in the case of UHT milk, cartons result in 70.7% less CO2 emissions and in the case of fresh milk 83.6% less CO2 emissions in comparison to disposable PET bottles. However, Elopak has been pushing this advantage further, reducing the carbon footprint of all its cartons by 20% between 2014 and 2019.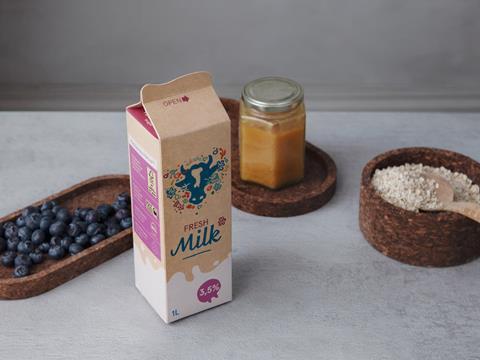 Innovation and collaboration are central to the company's approach. Since 2017 Elopak has increased research and development spending by 25%, allowing it to explore new ways to make the company's iconic Pure-Pak® cartons even more sustainable.
Popular innovations include Elopak's Natural Brown Board cartons, which are renewable, recyclable and have a lower CO2 footprint than conventional cartons, owing to reduced wood consumption and the elimination of the bleaching process. Their rustic, natural look effectively communicates this commitment to sustainability and instantly stands out on the shelves.
Elopak's Natural Brown Board cartons have quickly become a firm favourite with customers and in February 2021 the volume of these cartons surpassed one billion units. Their lower CO2 footprint means an estimated 3,000 tons of greenhouse gas emissions have been avoided as a result. This is equivalent to approximately 1,400 round trip flights for one person between London and New York.
Since its launch, Elopak's Natural Brown Board cartons have served as a platform for further sustainability-focused innovations, including the Pure-Pak® Imagine carton launched in 2020. The carton is a modern version of the company's original Pure-Pak® carton, containing 46% less plastic and designed with a new easy-open feature. It has no plastic screw cap and is 100% forest-based, making it Elopak's most environmentally friendly carton to date.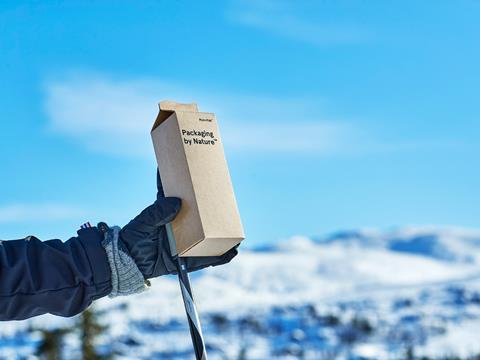 Among those to have adopted the Pure-Pak® Imagine carton is multinational dairy cooperative FrieslandCampina. Campina Organic is now available in the more environment-friendly packaging in line with the dairy's 'Nourishing a better planet' sustainability programme. The new packaging saves 38% CO2 emissions compared to the old packaging, with the remaining emissions compensated to ensure it remains climate neutral.
When it comes to innovation Elopak works closely with its customers to help them achieve their sustainability goals by reducing the overall environmental footprint of a finished product. Elopak cartons also help keep the product itself safe and fresh, minimizing waste while supporting the effective communication of the brand's commitment to sustainability.
While Elopak's Pure-Pak® cartons are already renewable and recyclable, the company continues to push itself to become even more sustainable. Having reduced emissions by 70% between 2008 and 2018, Elopak is now working towards a 55% reduction of internal emissions by 2030, and a 16% reduction across the value chain by 2030 from a 2017 baseline in line with its status as one of the first companies to have signed up to the Science Based Targets initiative commitment to keep the rise in global average temperature below 1.5°C.
This content was sponsored by Elopak.