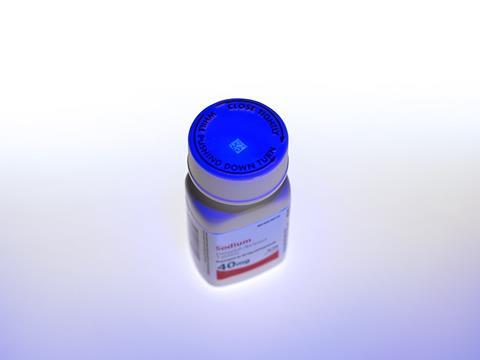 Leading pharmaceutical outsourcing services provider PCI Pharma Services (PCI) has announced the release of a published white paper detailing Domino's study which analyzes potential leachability of ink from coding technologies used in pharmaceutical Serialization activities.
The study was executed to ensure no migration into drug product contained within HDPE bottles with directly applied codes. Domino is an industry leader in coding and printing technologies operating in over 120 countries worldwide, and one of the key providers of coding technologies to PCI across its global supply network.
The white paper details PCI's joint development with Domino to analyze potential leachability of coding inks used in the application of Serialized codes directly on HDPE bottles. In the process of Aggregation in Serialization technologies, particularly for high speed bottling lines, it is common industry practice to utilize a second 'helper' code, often applied to the bottom of the bottle. Those helper codes are then digitally married to Serialized codes applied to labels on the side of the bottle and assist in line-of-sight verification in the commissioning and Aggregation process. The process of Aggregation establishes a parent-child relationship with the unit of sale and its ancillary packaging, providing numerous benefits in the supply chain. The leachability study was commissioned to ensure proper usage of Domino-supplied inks and compliance with industry requirements in the prevention of ink migration and potential to affect drug product.The study analyzes several ink types, including both visible black inks as well as invisible fluorescent ink used with ultraviolet (UV) inspection technologies.
PCI's Ray Hook, Global Serialization Manager, commented: "We collaborated with Domino on this study due to their expertise and global capability for applications like this. As we have progressed our Serialization strategy across our global supply network, it was critical that we identified methods that ensured product safety and security for our clients and the patients using these medicines. Domino provided us with the assurance that we were following industry best practices as we further developed our capability with large scale aggregation activity."
The study was a key precursor in PCI's Serialization preparation activities. In February this year, PCI announced a significant capital investment in Serialization capability expansion. The multimillion dollar investment effectively triples PCI's Serialization capacity in advance of US and EU deadline requirements, with more than 80 installations across PCI's global supply network. PCI has been providing commercially Serialized drug product to domestic and emerging markets for over five years and is well positioned to support global strategic Serialization and anti-counterfeiting initiatives for its clients.
More info:
https://www1.domino-printing.com/en-us/white-papers/domino-and-pci-address-the-issue-of-ink-leachability