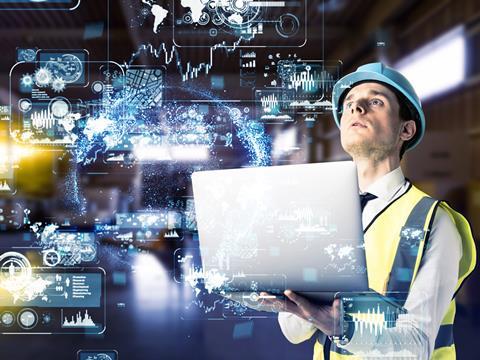 We have been talking about the many facets of Industry 4.0 for so long now that it no longer feels like something that is new or 'up-and-coming'. But has its full potential truly been realised, and what comes next? Victoria Hattersley talks to a few industry insiders to get their insights on these questions.
Is Industry 4.0 realised? Certainly, unless you have had your head buried in the sand or elsewhere for the past decade or two you cannot have failed to notice the digital transformations taking place in smart factories and businesses across the world. We might imagine that machines are all now happily interfacing and making autonomous decisions, and the revolution is complete.
In reality, as we all know, it's not a question with a definitive answer. The movement towards automation and data exchange in manufacturing processes is hugely complex, involving so many different aspects, from cyber-physical systems to the IoT, cloud computing and AI. And just as we can't pinpoint an exact start to all this, neither can there be a clear end point.
What does 'digital transformation' really mean?
What we can say for certain is that the ways in which factories and businesses operate has radically changed since the term 'Industry 4.0' became ubiquitous. We see certain ongoing trends, such as the move towards customisation, performance optimisation and improvement, food safety and green strategies, which are all influencing the ways in which decisions are made.
But what does a 'digital transformation' mean in practice, and how can this be brought about? Rockwell Automation is one company that has been working with its packaging clients for years to implement Industry 4.0, and Paolo Butti, its OEM director EMEA, says that broadly speaking there are two main stages a company needs to work through. "Number one is clearly for machine builders to have the right conversation with the end customer from the start and try to build what we call the 'use case'. Technology will only be successful if it addresses a clear business need.
"The second step would be a solid ROI calculation. It's about going through the separate steps before implementation: What would be the cost of each technology? How will it be implemented? What will be the ROI, etc?"
Connectivity is also central, of course. Once a networked system has been installed, data exchange must be implemented between each networked system. "This poses a challenge for the packaging industry to change its own view of the product," says Sören Rose, CEO of industrial software specialist inray. "Of course, packaging remains the central function of a packaging machine, but in the future a packaging machine will not be sold as a stand-alone system, but as part of an Industry 4.0 structure."
inray's OPC Router is an example of a central data hub that, with multiple plug-ins, enables different production systems to be coupled with each other. Through graphical configuration, the exchanged data between systems can be defined and the times for the data traffic be determined.
But the digitisation trend doesn't just affect a single product line in terms of digitally connecting machines and workflows – it impacts the entire supply chain. What we are also seeing, then, is manufacturers creating upstream connections with Enterprise Resource Planning (ERP) and Supply Chain Management (SCM) systems as well as downstream connections to their logistics.
"In the resulting 'smart factory', such intelligently restructured value chains optimise stock keeping units and create easier, faster and more efficient ways to feed raw materials and ingredients into production," says Raffaele Pace, Vice-President Equipment Product Management & Digital Solutions, Sidel.
"Additionally, we already see an intensification of built-in intelligence employed across the packaging lines. Such automated solutions are key in the factory of the future, in the form of features such as prediction, aided guidance and self-adjustment. The latter one, for instance, lets the machine correct itself independently of human intervention as data shows when its production values are out of range, as well as when manufacturing parameters should change based on new production needs."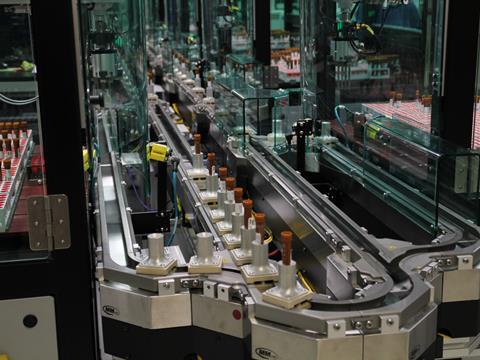 Improved data capture
In order to truly reap the rewards of Industry 4.0, then, companies need to take a more sophisticated approach to how their data is analysed. Big data is no longer a new term – it's been around for decades. But while most companies are now fully aware of the importance of data capture to improve their process and service offering, the challenge is to think in new ways about how data is analysed and the decisions that should be made as a result.
For Rockwell, this could be about moving the problems away from human decisions to data analysis. "The technologies we have been investing in when it comes to analytics and system maintenance are focused on using data to map trends and enabling machines to make autonomous decisions."
"In terms of collecting data, you can do it in a very agnostic way. I think Rockwell has been going increasingly open standard and really data aggregation is coming. What we are most concerned about is data orchestration, which is the first step before complex data analysis so that decisions can be made fast enough."
"In our view, digitising the entire value chain through the meaningful use of data will ultimately open up the opportunity to link the manufacturing site to the point of sale," says Raffaele Pace. "This move will offer various benefits, such as the optimisation of initial investments, reduction of time and costs by avoiding downtime and optimising resource consumption, and the possibility to steadily meet demands for long-term efficiency – as well as product mass customisation and increasingly faster time-to-market."
Furthermore, as data and decision-making are increasingly moving into the cloud, in the future businesses will need to decide how much needs to be in the cloud and how much needs to be on the premises. "For certain discrete manufacturing processes, the amount of data that needs to be in the cloud is not that huge," claims Mr Butti. "We are still strong believers that a lot of the high-speed real time data analysis needs to happen at the premises."
Where are the challenges?
But with such a huge and ongoing technological revolution, it is inevitable that some elements of the industry will have been quicker to embrace the changes than others. Aside from the ongoing question of cybersecurity as data moves into the cloud, one of the key challenges to be faced is a lack of organisational maturity when it comes to implementing new technologies.
"I think that when it comes to packaged goods such as home/personal care and food & beverages they are getting very close to what life science has been experiencing in terms of traceability, serialisation etc.," says Paolo Butti. "I think that what packaging still needs to address is being in control when it comes to OEE, for example to minimise downtime during machine upgrades, changeover and so on. This is ultimately the next step in the flexibility of production.
"Also, many companies are still not organised and don't have a huge after-sales department. They are not focused on data analysis, data security, performance management, remote diagnostics, or the possibilities for augmented reality. They don't have the concept of the machine as a service, which is where I believe the industry is heading."
For some companies, there is still a certain reluctance to implement these technologies, and this can be exacerbated by a lack of demand or understanding from customers. "An Industry 4.0 implementation generates costs that are reflected in the price of the machine and packaging," says Sören Rose, CEO of inray. "The customer must be able to identify and calculate the additional benefits. Only then will demand rise."
Mr Rose believes that one way the process can be accelerated is through the introduction of current standards to lower the barriers for implementation of Industry 4.0 for all parties involved. "There are already very good approaches such as the 'OPC UA PackML Companion Specification', which combines the PackML standard with the Industry 4.0 protocol OPC UA."
There is also the question of whether Industry 4.0, and the greater industrial automation this brings, poses a threat to the workforce by decreasing the demand for human skills. Do industry insiders think this is a genuine issue that needs to be addressed?
Not according to Raffaele Pace: "The use of advanced technologies has already begun to change the image of the industry but not exactly toward a reduced demand for human skills. Rather the opposite: due to the innovation focus, factory-based jobs are much more attractive than a few years ago – a trend that is set to increase as Industry 4.0 and the opportunities it presents for automation gather momentum. One thing seems certain: the next 'Z generation' will have aspirations beyond jobs requiring them to simply undertake repetitive, manual activities all day long."
'A cultural shift'
But it's not solely about the implementation of the necessary technologies themselves: Mr Butti is keen to point out that digital transformation is about a cultural shift as a much as a technological one – and this can be a challenge in itself as it requires additional expenditure in new skills to reflect the new realities of the workplace.
"The perspective we are trying to give is that it is a cultural transformation both internal and external and it touches upon an organisation's business model," says Paolo Butti."The majority of this transformation – even if it comes through the installation of new machines – involves human-machine interfaces which means a new set of skills and new people."
For example, cobots, which combine the capacities of a robot with the skills of human, can improve working conditions for employees by eliminating the need for potentially damaging manual activities. They will ultimately enhance human productivity by allowing workers to take on higher, value-added rather than manual tasks.
"For our customers, we also concentrate on aspects like an improving welfare to work, making job tasks more central to human beings. This is also an area where the increasing use of Artificial Intelligence (AI) and smart machines can generate advantages, by effectively simplifying complex tasks and providing the potential for less skilled operators to work on a larger range of equipment, including the ones with a high technological complexity."
Beyond Industry 4.0
The question of whether Industry 4.0 is implemented is, it is clear, a more complex one. Are we there yet? No, in short: it's an ongoing process and some elements of the supply chain are more advanced than others. Maybe the question we should be asking now is: What next – both for the ongoing evolution of Industry 4.0 and what happens beyond it?
There are some clear trends that will influence the way decisions are made going forward. A major one is the ongoing shift from mass production towards mass customisation and personalisation. This will require a greater level of agility than we are currently seeing – something the industry is now addressing. Sidel's Agility 4.0 program, for example, is designed to help its customers make the shift towards mass customisation via the use of smart solutions, digital connectivity and simulation tools, which it says can create manufacturing plants that are 'responsive, flexible and connected'.
But some might feel we've already heard enough about Industry 4.0 and it's time to move on to the next thing. This is where we can start to talk about Industry 5.0. While the overriding focus on Industry 4.0 is machine interface, Industry 5.0 is bringing it back to the human level by focusing on the necessary interaction between people and machines – something we are already seeing to a certain extent with the rise of the cobots. It's about making life easier for both employers and the workforce.
"This could mean, for example, that in the future a machine builder would not have to be present in a manufacturing plant: they could work remotely through a digital VR model," says Mr Butti. "Rather than spending ages in a plant, they would only need a matter of weeks because everything could be developed in the engineering lab. This would bring huge cost reductions, better quality of life, and they would be able to react far more quickly to changing requirements."
Here, the question is not the development of the tech itself – drones, robots, vision systems – they are already available. The change is in the business model and who is doing what and where and when and how. One thing is for sure: the growing demand for convenience means the factory of the future is going to look very different.