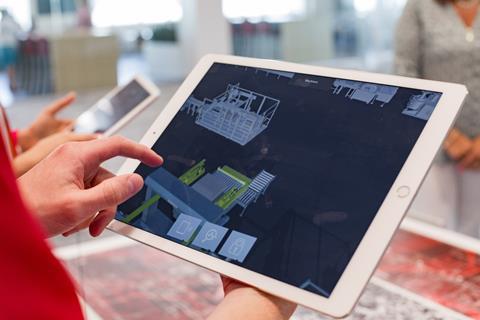 In last year's Industry 4.0 update, we discussed concepts such as digital twinning, the growth in mass personalization and Industry 5.0, among other things. In this year's piece, we again take a look at developments in some of these areas as well as touching upon other topics such as virtual factories, the benefits of cloud and edge computing, and AI. Victoria Hattersley reports.
As ever, one thing to bear in mind when we're talking about Industry 4.0 is that the topic has a very broad definition and scope. This can mean it is difficult – if not impossible – to really gauge how far the industry has progressed. What we will try to do here is give a flavour of the current possibilities in some of the key areas, throw some light on the challenges associated with them and what we might expect to see in the coming years.
Digital twinning and the virtual factory
Digital twins – virtual replicas of processes, production lines and factories – are one aspect of Industry 4.0 that has the potential to transform the way in which companies operate, improving productivity, efficiency and sustainability. We spoke to Natasha Avelange, Global Extended Reality Manager of TNA Solutions, to learn about the concept of the 'virtual factory' in relation to digital twinning, and the benefits this can bring.
"The Virtual Factory from TNA is a pioneering, highly advanced solution that leverages the power of extended reality (XR) to create a fully functioning and interactive digital twin of any planned or current operations. It gives all stakeholders the ability to see the outcome of any changes or additions to manufacturing facilities, enabling the optimization of physical footprints and seamlessly integrating line equipment. This means that any potential hazards and challenges can be mitigated before anyone sets foot on site. Regardless of their location globally, all stakeholders can meet virtually, saving time and reducing carbon footprint by minimizing travel.
"In addition, the remote capabilities of the Virtual Factory facilitate immersive and interactive training, as well as access to virtual support."
Cloud and edge computing
An increasing number of companies are adopting cloud computing as the cornerstone of their Industry 4.0 strategy. Storing data in the cloud can enable it to be processed more efficiently, enabling true connectivity and integration of production, supply chain, sales and distribution.
But for many producers, it is preferable to maintain a little more control over their data – perhaps because the demands of production necessitate it, for example in situations where an immediate safety issue calls for real-time data analysis in order to reduce downtime. For these, edge computing is the logical approach as the data stays near source but they can still maintain the necessary level of security. Which approach a company goes for – pure cloud computing or a combination of cloud and edge – depends entirely, therefore, upon their specific operations, as Sachin Mathur, Regional Director, Europe, Middle East and Africa at Rockwell Automation, explains.
"Each approach has its unique benefits and use cases, and they can be combined strategically to address different requirements. Whereas cloud computing involves using remote servers hosted on the internet to store, manage, and process data, applications, and services, thereby providing several ways to enhance the value chain with scalability, flexibility, accessibility, reduced infrastructure costs and enhanced collaboration, edge computing involves processing data closer to the source, such as IoT devices, therefore offering advantages like low latency, bandwidth optimization, offline operations and data privacy.
"The combination of cloud and edge computing allows businesses to harness the strengths of both approaches. Critical real-time processing can occur at the edge, while complex analytics and long-term data storage are handled in the cloud."
AI and machine learning
AI and machine learning can aid companies in utilizing the sometimes huge volume of information generated on factory floors, across other business units as well as from partners or suppliers. It can provide insights into the predictability and automation of various processes to improve efficiency, safety and sustainability across operations. Malte Schlüter, Global Director F&B / CPG / FMCG / LS at Mitsubishi Electric, explains a little more about how these technologies are currently supporting clients in the packaging industry and beyond.
"State-of-the-art machinery that leverages data acquisition and AI solutions, such as machine and deep learning, to drive their automated processes is able to improve capabilities and productivity over time. As more data are generated and analyzed, the processes can get more robust.
"The ultimate implementation of AI will be to support closed-loop prescriptive maintenance process optimizations. The equipment will be able to recognize that a tool is wearing down. By automatic adjustments of speeds and movement patterns, the service life of the tool can be prolonged while meeting product quality targets, while simultaneously maintenance specialists are notified and can schedule an intervention."
Is the pace of adoption changing?
The above gives a broad picture of the ways in which the industry is employing Industry 4.0 technologies – yet many of these have been in existence for years and it can still feel as though we are in the early stage of adoption. We were interested to find out whether our interviewees feel that the industry as a whole has been slow to understand the possibilities of these transformative concepts.
"The packaging industry is often conservative when it comes to implementing new technologies," says Malte Schlüter. "The life cycle of equipment can exceed 15 years. This is combined with a higher cost sensitivity that has ruled out the implementation of advanced technologies. But over the last few years, many things have been changing faster. Reduced lot sizes and even 'lot size one' are becoming more common in the e-commerce industry, with millions of packaging units a day having to be 100% customized."
It would be fair to say that the COVID-19 pandemic has also helped speed up the pace of adoption. By forcing us to move many of our everyday activities online it has shown us that change can be achieved quickly when necessary.
"What the pandemic proved was that the industry is in a transitional phase, born out of necessity," says Natasha Avelange. "Travel was severely restricted, and the digital alternatives that emerged have continued long after restrictions were lifted. Virtual meetings are now commonplace, and solutions such as the Virtual Factory elevate to a level that many will not have experienced before. Additionally, there are labour issues relating to both the skilled and unskilled workforce – it is increasingly difficult to find and retain people."
Sachin Mathur agrees that the rate of uptake is accelerating: "We worked with a research company last year and we looked into several hundred manufacturers around the world. We discovered the amount of technology adoption and innovation a customer would normally do in about 15 to 20 years, they did that in two years in the manufacturing industry. That is the acceleration that COVID provided."
For Malte Schlüter, it is vital not just to collect data but to ensure we are turning it into useful information and creating value-added insights through the use of analytics – and individual companies should also, he adds, avoid attempting to do too much at once.
"It important to digitalize factories in small steps. The path to success is to identify the most urgent need and/or pain point and solve this with digital technologies. After completing this first implementation, it is possible to repeat this strategy to optimize other activities and ultimately the entire factory."
What about Industry 5.0?
The buzz around the concept of Industry 5.0 is becoming steadily louder. It brief, Industry 5.0 can act as a complement to Industry 4.0 technologies but it places the wellbeing of the worker at centre-stage. In last year's Industry 4.0 update we discussed how technologies such as robotics can not only improve efficiencies, but also relieve pressure on human workers. How are things progressing, and what will this look like in practical terms for the industry?
"Industry 4.0 opened the door to digitalizing individual assets or systems, creating islands of automation," says Malte Schlüter. "The next step is to link them, digitalizing entire environments, connecting virtual and physical worlds. Compatibility and interoperability across the entire factory are the keywords to future success, as the factory of tomorrow will be hyper modular and flexible.
"Realistically, we will see Industry 2.0 to 5.0 processes and machines next to each other in factories."
Sachin Mathur is also keen to stress why Industry 5.0 is such an important – and distinct – concept: "The tagline for 2.0 was electrification, 3.0 was automation, and 4.0 was digitization. This one is nothing about the technology itself; whether it is electricity or automation, it is about humanization, that is the difference. Simply put, it is about the application of that technology and how does that make a difference to my children, your children, or those who have not yet been born?"
What next?
There are many trends that will drive the next generation of digital technologies – whether that is an increased focus on supply chain visibility, the shift back from globalization to localization, or, of course, the continued need for sustainability across the supply chain.
"The next step for packaging is the same as every other industry or traditional manufacturing organization," says Sachin Marthur. "They need to have a bit more user-centricity about truly defining what digitization would mean. Whether it is to do with cloud or edge computing, they need to be more explicit when adopting digital technologies on what their target outcomes are."
The topic of Industry 4.0 is a dynamic and continually evolving one. Packaging Europe will continue to bring you the latest news and analysis of technologies and trends as they emerge.