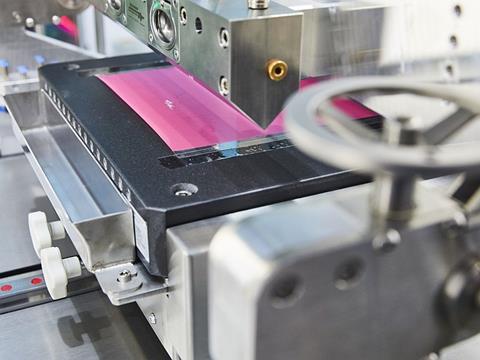 From 12 – 14 March 2019, the converting industry will gather for the 11th edition of ICE Europe, the exhibition for Paper, Film & Foil Converting, at the Munich Trade Fair Centre in Germany.
This year's ICE Europe will be bigger than ever. With 11,500 m2 net floor space, the booked stand space has grown by 4 % compared to figures from 2017. In addition, the number of exhibitors increased by 6 %. More than 450 exhibitors will present their innovations and latest technologies at ICE Europe 2019. The most important trends at the show will be digitalisation, individualisation and sustainability, which will also be considered at this year's ICE Awards. Featuring hundreds of exhibitor profiles and product information, the Show Preview is now available to all visitors in print and online. The printed version also includes professional articles about sustainability in the converting industry.
The focus of this year's ICE Europe will be the digitalisation of manufacturing, the individualisation of products and the sustainability of materials and processes. Thus, the specialised trade show continues to cover the most important trends. 'The converting industry faces diverse challenges: On the one hand, a growing demand for sustainable products and tighter regulatory requirements, e. g. new legislative proposals. On the other hand, the consumers' desire for individualised, high-quality products and packaging solutions as well as new developments and opportunities, that Industry 4.0 offers", explains Liljana Goszdziewski, Exhibition Director of ICE Europe, on behalf of the organisers, Mack Brooks Exhibitions. 'ICE Europe 2019 is the central meeting point for the international converting industry to find the best possible ways to turn these diverse challenges into promising opportunities', continues Liljana Goszdziewski.
Digitalisation and associated smart products and packaging remain an important trend in converting. Therefore, for the first time, ICE Europe 2019 will present a dedicated 'Special Film & Extrusion Area' for the growth market sector of special films.
ICE Awards 2019: Online voting now open
For the second time, best practice, excellence, innovation and extraordinary achievements will be honoured with the ICE Awards at ICE Europe 2019. Exhibitors have the chance to win an award in one of four categories, that are currently most relevant in the industry: 'Digital Converting Solutions', 'Sustainable Products and Manufacturing Processes', 'Efficient Production Solutions' and 'Special Film Innovations'. Numerous exhibitors from various countries have submitted their entries for the online voting.
From 29 January 2019, the converting community is invited to vote for their favourite in each of the four categories on the ICE Europe website. The online voting ends on Tuesday, 19 February 2019, at midnight. The winners will be honoured in an official awards ceremony on Tuesday, 12 March 2019. All exhibitors and visitors can join this ceremony.
Show Preview: Comprehensive information prior to the event
The printed Show Preview with comprehensive information about ICE Europe 2019 is now available. Visitors can order it on the show website free of charge. The Show Preview contains brief profiles of many exhibitors and their products, exhibitor lists (sorted alphabetically and by exhibit categories), the exhibition profile and two professional articles about sustainability in the converting industry. Several Fraunhofer Institutes report on technologies for sustainable packaging solutions and the aspects of sustainability in flexible plastic materials. The Fraunhofer Institutes for Interfacial Engineering and Biotechnology (IGB), for Organic Electronics, Electron Beam and Plasma Technology (FEP) and for Applied Polymer Research (IAP) will present their spectrum of technologies and know-how on-site.
In addition to the printed document, an Online Show Preview is available on the ICE Europe website. By using the online tool and ticking particular exhibit categories, visitors have the chance to create their individual exhibitor list, which only includes profiles that are relevant to them.
Exhibition area grows by 4 %
A total of 455 exhibitors from 25 different countries have booked their stand space at ICE Europe 2019 and occupy 11,500 m2 of net floor space. This means that the booked net floor space has grown by 4 % compared to the total floor space at ICE Europe 2017. The number of exhibitors increased by
6 % compared to the previous show in 2017. A great majority of the exhibitors at ICE Europe 2019 come from Germany, Italy, the United Kingdom, Switzerland and the United States, with 55 % being German companies.
Exhibition profile
As a specialised trade fair, the exhibition profile of ICE Europe includes all main areas and manufacturing processes of the converting of flexible, web-based materials, such as paper, film, foil and nonwovens. The exhibition covers materials, coating/laminating, drying/curing, (pre-)treatment, accessories, slitting/rewinding, flexographic/rotogravure printing, finishing, factory management/waste removal/recycling, retrofitting/machine upgrades, toll coating/converting/slitting, control, test & measurement, production process management, services, information & communication, and (semi-)finished products.
The new 'Special Film & Extrusion Area' comprises the category special films (battery films, biopolymeric films, high barrier films, optical films, weatherable films and other special films) as well as the area of extrusion (extrusion lines for blown films, extrusion lines for flat films and sheets, welding machines and calendars).Important visitor informationTickets for ICE Europe 2019 are available in the Online Ticket Shop. Day tickets are available for €24 online and €38 on-site, season tickets are available for €34 online and €50 on-site. The tickets also grant access to the co-located show CCE International 2019, Europe's only trade fair solely focussing on manufacturing and converting corrugated and cartonboard.
In addition to the Show Preview, the visitor brochure is also available in print as well as for download from the ICE Europe website. It contains all important information about the show, the exhibition profile, the exhibitor list, the accompanying programme as well as visitor services.
ICE Europe 2019 will take place in halls A5 and A6 at the Munich Trade Fair Centre in Germany. The 4th edition of CCE International is once again co-located with ICE Europe and will be held in hall B6. Both shows will be open on Tuesday, 12 March 2019, and Wednesday, 13 March 2019, from 9.00 – 17.00 and on Thursday, 14 March 2019, from 9.00 – 16.00.