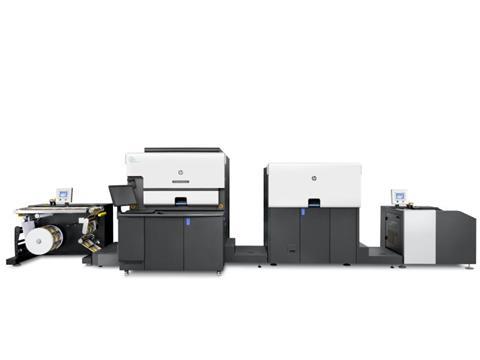 Additionally, the high-performance HP Production Pro for Indigo Labels and Packaging is now included in the HP Indigo 6900 and rolling out this year to HP Indigo's entire Labels and Packaging portfolio. Featuring five times faster RIP power and the Esko Color Engine, the powerful Digital Front End provides extensive productivity and scalability for continuous digital production, to allow converters to scale and manage their digital production across multiple presses and multiple sites, increase the number of jobs per day, and shorten delivery cycles.
Pack Ready Laminator commercially available
For the HP Indigo 20000 flexible packaging press, the HP Indigo Pack Ready Laminator is now commercially available. A pioneering technology, Pack Ready Lamination allows for immediate time-to-market of HP Indigo digitally printed flexible packaging by eliminating the use of adhesives. The Pack Ready Laminator is manufactured and supplied by Karlville.
Extended capabilities for the HP Indigo 30000
The HP Indigo 30000 Digital Press offers converters an opportunity to build new profitable businesses that leverage cost-effective short runs and added value long-run production. The new capabilities and improved performance include:
• Increased productivity to enable dozens of folding carton jobs per day and up to 1 million B2 sheets per month.
• The widest folding carton application span on one press, leveraging wide media range from paperboards to metalized, synthetic, and transparent media, new security features like micro-text and micro QR-codes, and new automatic mass customization and personalization capabilities.
• The Tresu iCoat 30000, sold and serviced by HP Indigo, for one robust folding carton production line.
Digilinck, a folding carton converter based in Deinze, Belgium, is adding a second HP Indigo 30000 digital press. "The Folding cartons market is changing and our customers expect speedy delivery and lower inventory levels. The HP Indigo 30000's high flexibility and offset matching quality allow us to seize this opportunity and build a new profitable digital business, offering short turnaround-time and economic production of short-run healthcare packages," said Vincent Oosterlinck, Owner, Digilinck. "Since installing the press, our business grew by 66% in the last three years."
Addressing the dynamic corrugated packaging market HP also announced that Kiwiplan, a leading MIS/MES software solutions provider for corrugated and rigid packaging, will be fully integrated, keeping the HP PageWide C500 presses running at optimum capacity, while helping customers to save time and costs through production and supply chain efficiency.Five customers in Europe and the US have already purchased the groundbreaking PageWide C500 Press for direct-to-board post-print corrugated production. The first unit will ship next month.Utilizing HP's high-performance single-pass Thermal Inkjet technology, the HP PageWide C500 provides a cost-effective digital alternative for offset lamination and flexo production. The press delivers offset quality direct-to-board with mainstream productivity on both coated and uncoated papers, delivering packaging with vibrant graphics that preserves even the finest details.
The HP PageWide C500 utilizes HP CV150 Water-Based Inks, which contain no UV-reactive chemistries. These true water-based inks allow corrugated converters to print primary and secondary food-related packaging without an additional barrier.2 This robust and trusted solution enables compliance with the most stringent global food safety regulations and industry guidelines.
More info: