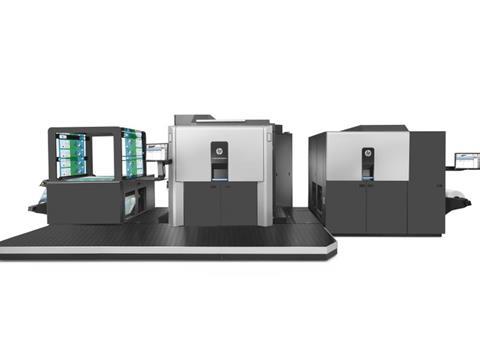 "The packaging industry is driven by brands that want to delight customers, reduce time to market, optimize supply chains, and deliver security solutions. Only HP digital printing can deliver solutions for such challenges," said Santi Morera, general manager, HP Inc. Graphics Solutions Business. "Our customers benefit from solutions that help them differentiate and better serve their clients."
Digital printing of packaging is a market expected to reach $20 billion by 2022.1 HP labels and packaging printing, enjoying double-digit growth, is the fastest-growing segment in the HP Inc. Graphics Solutions Business.
HP Indigo reaching new milestones
At the HP interpack booth in Hall 13 , HP Indigo is unveiling the HP Indigo Pack Ready Laminator commercial model, optimized for the HP Indigo 20000 Digital Press, allowing immediate time-to-market for flexible packaging. Now commercially designed, the laminating system will be manufactured and supplied by Karlville. Customer beta testing of the laminator is scheduled for this summer. First units are to ship by the end of the year.
HP also announced new substrates for the HP Indigo 20000 and 30000 digital presses, as well as new white ink offerings for the HP Indigo labels and packaging press portfolio, for expanded possibilities and higher performance.
The 762 mm HP Indigo 20000 Digital Press for flexible packaging, labels and shrink sleeves now supports printing on aluminum and polyethylene, new substrates that expand packaging solution offerings.
In addition to Amcor, recent installations of the HP Indigo 20000 Digital Press at converters worldwide include:
• The Beucke Group and Südpack, both based in Germany, each chose the HP Indigo 20000 press as their first Indigo digital solution.• Germany-based Rolf Kindler Label Service installed the HP Indigo 20000 to expand into digital flexible packaging and large sized labels, and to offer higher productivity in digital label printing.• O. Kleiner, a Swiss flexible packaging converter, installed its second HP Indigo 20000.• Enplater, a leading Spanish converter, installed a second HP Indigo 20000 press to expand its digital offering to the Spanish food packaging sector.• Siti Tea, of Morocco, installed the press for its in-house, premium tea packaging production.• Alphacolor of Brazil has also chosen the HP Indigo 20000.
The market proven HP Indigo 30000 Digital Press, a 75 cm sheetfed press designed especially for folding cartons, is now upgraded to allow brands and retailers to enjoy the digital value on metallic and synthetic substrates expanding their applications in segments such as beauty, healthcare, personal care and more.Recent installations of the HP Indigo 30000 include:
• PackageMedia of Finland installed an HP Indigo 30000 press to engage brands, enable digital campaigns, and bring in new customers in Scandinavia and Europe. It also installed HP PrintOS Site Flow to handle large volumes of variable jobs
.• FP Mercure installed the Indigo 30000 press in Auvergne Rhône-Alpes, France to strengthen its presence in the packing and packaging market.• Visingpack, a packaging supplier in Vietnam for carton boxes and duplex boxes, installed an HP Indigo 30000 Digital Press to deliver folding cartons solutions for the Vietnamese market.
• Orda Group, a leading Israeli provider of transactional printing, has chosen the HP Indigo 30000 to expand in the packaging market.
• Groupo Gondi, a leading Mexican folding carton converter, acquired an HP Indigo 30000 to consolidate its position in developing and innovating the market. HP Indigo 8000 Digital Press, the industry's most productive digital narrow-web press,3 has recently been installed at Roltag in Israel, Strongpoint in Sweden, and At Vila in the Netherlands.
At interpack HP Indigo is also demonstrating the upcoming narrow-web HP Indigo Digital Combination Press, based on the market's best-selling HP Indigo WS6800 Digital Press.4. Designed for high-value labels production, the press offers printing and digital embellishments, including digital spot and tactile varnishes, rhinestone effects, and digital foils, all in one pass at full press speed.
New inks
The expanded white ink portfolio now includes the newly reformulated HP Indigo ElectroInk Standard White, delivering improved quality and productivity.
HP also released HP Indigo ElectroInk Premium White for the HP Indigo 8000 Digital Press and WS6000 series presses. The versatile ink helps converters deliver a wider range of opacity levels, up to silk screen opacity, in a single print process. HP reinventing corrugated printing solutions
For corrugated printing, HP PageWide is pioneering high-quality digital printing for pre-print and post-print applications.
HP Inc. announced that the upcoming HP PageWide C500 Press would deliver a mainstream production capacity of up to 25 million square meters of boards annually, powered by proven HP PageWide Thermal Inkjet technology. Announced at drupa 2016, customer beta testing is scheduled to begin at the end of the year, with commercial availability in 2018.
The commercially released HP PageWide T400S Press, HP PageWide T1100S Press, HP Scitex 17000 Corrugated Press, and HP Scitex 15500 Corrugated Press are already enabling early adopters of HP digital to quickly and efficiently turn around short- to mid-run jobs, keep up with market demands, and deliver more versatility and repeatability. Leading worldwide corrugators with HP solutions include: DS Smith, Ghelfi Ondulati, and Christiansen Print of Thimm Group, all located in Europe, and Georgia Pacific in the United States, all operating the HP PageWide T1100S Press.
Packaging solutions from HP Specialty Printing Systems (SPS)
HP Specialty Printing Systems (SPS) is driving innovation for labeling and packaging applications for vertical markets, including product identification on primary and secondary packaging, in addition to on-demand desktop labels for a wide range of applications. An in-store environment demonstration of desktop labeling for brands is taking place at the HP interpack booth.
HP today announced the new desktop color HP Scanning Imager 1300, leveraging HP Thermal Inkjet technology. The SI-1300 offers OEMs a proven, versatile, color inkjet printer mechanism that minimizes development cost and effort, and speeds time-to-market. Industry leader, Afinia Label, is leveraging the SI-1300 to develop innovative solutions. "HP-based print technologies are enabling us to enter new markets," said Mitch Ackmann, President and COO, Afinia.
Additionally, the HP Solvent Bulk Ink System now supports inks from certified ink partner, General, offering greater flexibility in supplies availability to customers. Bluhm Weber, Rynan and Sojet, three OEM partners, are demonstrating HP's Bulk Solvent Ink System at interpack.
More info: