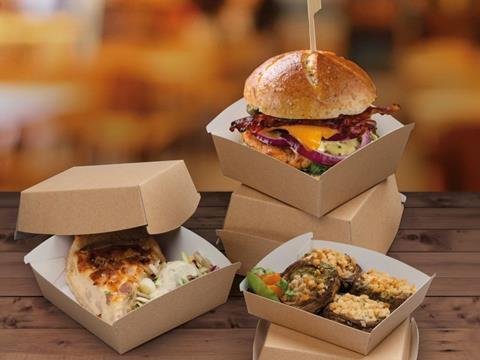 Colpac shares some tips on how packaging can help make the most of the growing street food movement.
From vegan style battered tofu and barbecued jackfruit, to pulled pork brioche baps, there's no denying the British Street Food revolution is in full swing. A decade ago, street food was a hamburger van at a football stadium, but, today, it is at the forefront of food innovation and its popularity has exploded.
Food Service Operators are feverishly keeping up with the exponential growth, taking their offerings kerb-side, and pop-up vendors are appearing in towns and cities to serve an estimated 2.5 billion people daily.
To cater to the increasingly demanding palates of discerning consumers, street food offerings are becoming more diverse. European foods are swiftly approaching saturation point, while Taiwanese Cuisine is considered a major growth area in 2018. Creating the popular dishes is one thing, but choosing the right packaging is essential. Here, Colpac's European Marketing Manager, Arianna Bucci, explores the growth of the street food movement, and offers tips to finding the right packaging solution.
Get personal
Street food offers a creative, fun way for consumers to eat, and the packaging forms an integral part of this experience. With so many street food vendors popping up, the competition is fierce, and the need to diversify and enhance the customer experience is magnified. Packaging doesn't need to be complicated to work, simple paperboard solutions are sufficient, and can be easily personalised with the use of branded labels. Or, work with a supplier who can offer shorter print runs for seasonal packaging, and creative, on-board print which depict a specific look you are trying to achieve. For instance, dishes which portray 'home-made' are popular, so a hand written print effect will reflect this.
Easy to handle
Street food is at the heart of the 'grab and go' culture, so opting for packaging which makes the customer experience as simple and convenient as possible is essential. Think about the journey your customer will go on, from purchase to consumption, right through to disposal. For instance, if you are creating dishes which require additional sauces of dressings, think about using packaging which can hold all the parts of a dish in one go, such as cartons or cones with dip or sauce corners. Tuck top food tubs are also popular as they are not only easy to construct, but offer easy access to customers who may want to eat some and save some for later!
Quick & efficient
Robust, flexible packaging is essential for street food vendors who need to be able to serve up dishes quickly and efficiently. Any packaging solution should be stackable, as this not only allows for ease of construction and packing, but takes up a limited amount of space, leading to a reduction in SKU's and transport and storage costs. With so many different dishes on offer, interchangeable packaging is the solution, such as Colpac's recently launched Tower Trays. An ideal container for a huge array of instant eat dishes, Tower Trays are available in three different sizes, and can be used as a standalone tray, or combined to create a 'tower box' by clipping together any one of the trays on top of any size tray to form a base and lid.
Multi-functional packaging, such as an all-in-one film to board pack, is another quick, practical solution for the packing of flat-breads, stuffed tortillas, burritos or sausage rolls, as it can be shaped around the product to fit, and either heat sealed or clasped together with the use of an integrated paperboard clip.
Avoid leaks, while letting off steam
The rise in popularity of dishes such as noodles and Asian broth provides retailers with the opportunity to explore a new world of flavour. However, these types of dishes are inherently wet so the packaging must offer the correct resistance, plus the sight of permeating grease can be a deterrent to many consumers! An inner coating of black PET to a paperboard base will offer protection to hot dishes, plus keep any grease absorption at bay. The packaging should also play a vital role in keeping the food hot so for items such as hot soup or early morning porridge, use tubs with suitable vent holes to allow the steam to escape.
Reheatable
While many street food consumers indulge in dishes as they wander around a market, a portion of the crowd may want to reheat their purchase to enjoy later at home. Options for packaging constructed from reheatable material are readily available, for instance the use of PET provides heat resistance to handling and reheating. And, if you think consumers will reheat their dishes at home, but are keen to depict your branding on the packaging, ensure that your packaging supplier uses inks and coatings formulated with heat resistant pigments to meet EuPIA (European Printing Ink Association) guidelines.
Are you green enough?
Consumer expectations for sustainably sourced packaging is growing in traction, as quickly as their demand for diverse cuisine. Street food vendors are not necessarily enforced with the same regulations as their retail counterparts, and money, particularly for the start-up's, can be tight so the lure of cheaper, less sustainable alternatives might be alluring. However, consumer demand for better practices is making even the smallest of vendors take notice, and the traditional polystyrene and aluminium trays are slowly being substituted with more environmentally friendly alternatives such as paperboard. Colpac's Kraft range, for instance, is available in a range of different formats and is suitable for the packing of a range of dishes from slices of pizza to salads. Constructed from natural, recycled, material, Kraft is biodegradable and compostable within 16 weeks.
Significantly, the rising number of street food vendors will undoubtedly lead to greater food waste and environmental issues in the disposal of packaging. Therefore it is vital that the right infrastructure is put into place to counteract this, with dedicated recycling plants in place to ensure the packaging is disposed of correctly.
Street food culture looks set to stay, and its transient nature means vendors can keep up with ever-changing consumer demand for new flavours, textures and winning combinations, easier than their retail counterparts. Ultimately, the ability to move with the times will help street food vendors survive and flourish, and having the right packaging within easy reach for each new phase will give them a head start.
More info: