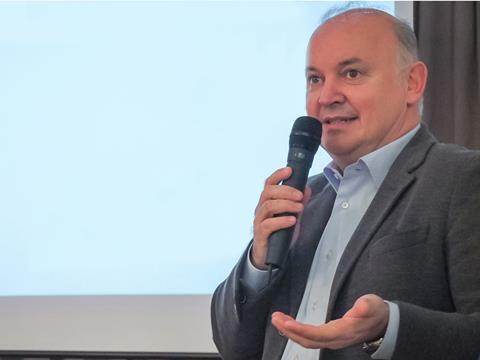 We hear from Mario Molinaro, business unit flexibles and marketing director, Europe, at Taghleef Industries.
Developing innovative products that meet various stakeholders' real needs, and promoting a circular economy for a more sustainable future, are two objectives that lie at the core of Taghleef Industries' vision. In fact, through our recently launched Dynamic Cycle, a holistic sustainability approach, Ti aims to look within and beyond the industry and to focus on developing breakthrough solutions that positively impact people's lives with today and tomorrow in mind.
Every Ti product line is designed with exceptional properties that are made for recycling. For instance, Taghleef's range of OPP Specialties consists of innovative PP-based substrates that combine high technical performance and recyclability. Premium lightweight packaging films, such as EXTENDO®, offer high functional barriers and product protection. Low-density SHAPE360™ TDS—polyolefin films for shrink sleeve labels—improve PET-bottle recycling stream quality by ensuring the separation of floatable printed sleeves from rigid PET flakes while Biobased NATIVIA® solutions are breathable and compostable films derived from renewable resources (PLA). Ti's technical film lines include DERPROSA™ - a brand of films for lamination that has a dedicated biobased, biodegradable, and recycled portfolio for luxury graphic arts applications and SynDECOR®, a range of films engineered for decorative laminates and used as an ideal replacement of melamine paper.
As the consumers' demand for a greener lifestyle keep growing, Taghleef's broad portfolio of sustainable innovations continue to expand by introducing its most recent addition to its range of solutions- reLIFE™ and biobased PP films. reLIFE is Ti's latest range of recycled polypropylene films that brings new life to used materials and saves limited fossil fuel resources. This includes packaging and labeling solutions with either PCR (chemically or mechanically recycled) content or RPG (reprocessed granules) in which Ti's portfolio of PCR-CHEM films are ISCC Plus Certified. Meanwhile, Taghleef's biobased PP films represent a biobased alternative to films made from the conventional fossil-based feedstock. They are made from renewable resources of vegetable origin, thereby contributing to the removal of CO2 from the atmosphere with potential fossil depletion reduction by up to 80%.* Ti's biobased PP films are also ISCC Plus certified and can be used in the same applications as the traditional grades made of fossil-based raw material, thus guaranteeing the same excellent technical performance and machinability. At their end of life, these films can be recycled in existing polyolefin recycling streams.
Furthermore, customers are provided with a series of value-added services that Taghleef offers through collaboration, expertise, and consultancy under the Dynamic Cycle initiative. Ti's unique reDESIGN™ approach, for instance, is a tailor-fit service where Ti facilitates the switch from traditional structures to innovative and sustainable packaging and labeling solutions that best fits the brand owners' needs in terms of packaging requirements. Dynamic Cycle Services also include providing independently verified product certifications and LCA studies that demonstrate the improved features of the films used.
With Dynamic Cycle, together with our partners, Taghleef takes purposeful steps in the right direction while we are all continuing, searching, and investing to foster sustainability for the future.
*(each kg of Renewable PP removes up to 2 kg of CO2 from the atmosphere with fossil depletion reduction potential by up 80%. - Basis: 1kg PP - Scope: Cradle to Gate - Impact Category: Carbon footprint - Impact assessment method: ReCiPe Midpoint (H) V1.13 / Europe Recipe H.)