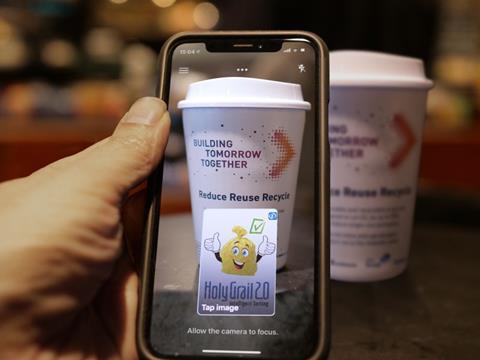 Under the auspices of AIM, the European Brands Association, over 85 companies and organisations from the complete packaging value chain have joined forces with the goal to assess whether a pioneering digital technology can enable better sorting and higher-quality recycling rates for packaging in the EU.
HolyGrail, which has been led by Procter and Gamble's Gian De Belder and was announced as the overall winner of Packaging Europe's 2019 Sustainability Awards, will now be put into practice on a much greater scale and scope. This will include the launch of an industrial pilot with the aim of proving the viability of digital watermarks technologies for more accurate sorting of packaging and higher-quality recycling, as well as the business case at large scale.
"The 3 key ingredients here are innovation, sustainability and digital, combined to achieve the objective of the Green Deal towards a clean, circular and climate neutral economy," outlines Michelle Gibbons, director general at AIM.
"It is terrific to see such enthusiasm from across the industry and to be able to unite such expertise from the complete packaging value chain, from brand owners and retailers to converters, EPR schemes, waste management systems, recyclers, and many more. Collaboration is the way forward to achieve the EU's circular economy goals."
Commenting on his company's participation in the project, PepsiCo Europe's CEO, Silviu Popovici, added: "Effective sorting of waste is a barrier to wider recycling of packaging materials in Europe. This industry-wide challenge can only be resolved by working together for a system-wide solution.
"Developing digital watermarks for packaging is a prime example of how collective action and technology can advance a circular economy. This is another step in PepsiCo's efforts to build a world where plastic need never become waste."
Digital watermarks are imperceptible codes, the size of a postage stamp, covering the surface of a consumer goods pack. They can carry a wide range of attributes such as manufacturer, SKU, type of plastics used and composition for multilayer objects, food vs. non-food usage, etc.
The aim is that once the packaging has entered into a waste sorting facility, the digital watermark can be detected and decoded by a standard high-resolution camera on the sorting line, which then – based on the transferred attributes – is able to sort the packaging into corresponding streams.
AIM believes that this would result in better and more accurate sorting streams, and thus consequently in higher quality recyclates, benefiting the complete packaging value chain. Next to this "digital recycling passport", digital watermarks also have the potential to be used in other areas such as consumer engagement, supply chain visibility, and retail operations.