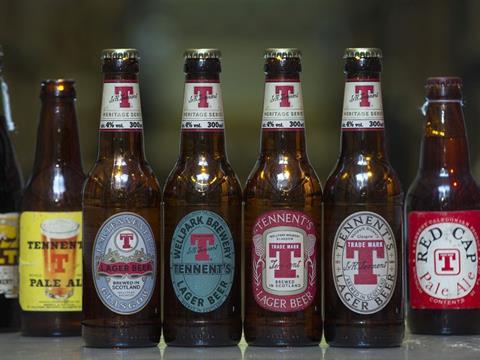 DS Smith's UK packaging division has partnered with the Scottish lager brand, Tennent's, to help launch a limited edition 'heritage pack' inspired by artefacts from the brand's 130 year history.
The concept behind Tennent's Lager Heritage Series pack was to celebrate and draw upon the brands 'experience and expertise', with the label and pack design taking inspiration from the original bottles, including the very first Tennent's can.
To achieve the complex pack design, it was vital that the print quality was high to replicate the historic Tennent's logo. Using the latest print technology, the packaging strategists were able to print the final design using corrugated post print, allowing for colour consistency with the brands logo throughout the range of label designs.
Alan McGarrie, Head of UK Brand Marketing at Tennent's Lager said, 'Our limited edition bottle pack provides a great platform for us to celebrate the history and character of Tennent's Lager. The work DS Smith put into producing the pack for us is fantastic, and ultimately consumers love the pack when they see it on the shelves.'
Simon Hamer, Print Director at DS Smith's UK Packaging Division, commented: 'The Heritage Series is a great example of collaboration between customers and suppliers when working on pack design. We are proud to deliver a product that not only upholds Tennent's reputation for iconic packaging, but is also recognised for the highest quality print.
We invest in the latest printing technology at an early stage to ensure our customers have unrivalled access to quality and the widest range of printing techniques, helping products to stand out at the moment of truth in store.' The Heritage Series was recently awarded Gold at the European Flexographic Industry Awards 2017 for its innovative design, style and production.
More info: