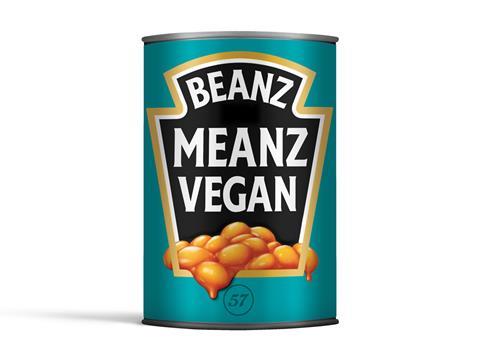 Heinz has launched a line of limited edition "Beanz Meanz Vegan" cans to remind consumers of its classic product's vegan credentials.
This Saturday morning (11th January) has been pinpointed as the single most challenging time of Veganuary, according to new research by Heinz. That's why the company is launching a limited-edition range of 'Beanz Meanz Vegan' cans, to remind the huge number of people undertaking Veganuary 2020 that the much-loved food classic just happens to be vegan too.
Veganuary, which first launched in 2014, invites people to adopt a vegan diet for January and has been growing in popularity in recent years. Now Heinz has commissioned research to understand the biggest barriers and challenges of Veganuary, in a bid to lend a helping hand to those who have committed to going vegan this month.
The research has revealed that falling off the vegan wagon is very normal, with four in five (80%) wannabe vegans admitting it's happened to them in previous years, leading to feelings of disappointment (28%) and guilt (23%).
When asked what triggered the fall from the vegan diet, one in five (19%) admit it was the smell of something meaty like a bacon sandwich and roast dinner, while 15% blamed a hangover and another 15% said they simply ate something non-vegan by mistake.
Emily Wright from Heinz Beanz said: "There's a general perception that being vegan means you have to spend lots of money on fancy foods but being vegan isn't all kale and quinoa. That's why we want vegans to know that our classic Heinz Beanz can still be enjoyed this Veganuary, whether on a simple piece of toast or a delicious baked potato. Not forgetting all the other varieties in our vegan range, including Heinz Beanz No Added Sugar and Heinz Beanz Peri Peri."