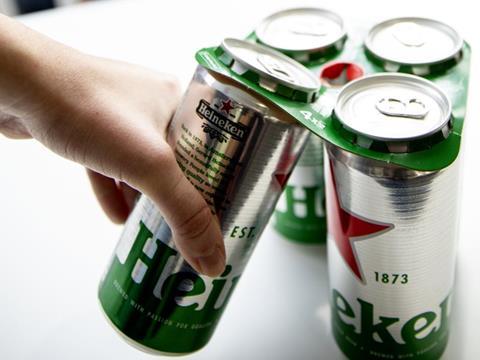 HEINEKEN UK has announced that it is eliminating plastic rings and shrink wrapping from its entire portfolio of beer and cider multi-pack cans, a move that the company says is set to remove 517 tonnes of plastic annually from the supply chain.
Part of a £22 million investment, HEINEKEN has announced a plastic-free topper for multi-packs that uses sustainably sourced cardboard. The topper is being piloted and launched in the UK first, as a "priority market" for the company, before its suitability it assessed for other markets in the EU and beyond.
The new packaging was designed to remove plastic and to minimise use of materials and reduce waste. The cardboard topper is described as 100% recyclable and compostable -and is robust and easy to grip.
This innovation will be rolled out across Heineken®, Foster's and Kronenbourg 1664 multi-pack cans. This will be followed by all HEINEKEN brands in multi-pack cans, including Strongbow, Bulmer's and John Smith's by the end of 2021.
Cindy Tervoort, UK Marketing Director, HEINEKEN, said: "The effect single-use plastic is having on our planet can't be ignored. Creating an eco-friendly solution that eliminates plastic while still meeting the demands of our beer and cider drinkers has been a big focus in our business. Now, after years in development and huge investment, we're extremely pleased to announce our recyclable and compostable topper innovation, a significant milestone in our journey to eliminate all single-use plastic."
The £22 million investment will be split between HEINEKEN's Manchester, Tadcaster and Hereford sites, with the technology piloted at the Manchester brewery before the end of the year. The company already sells over half of its beers and ciders on draught in pubs around the country through refillable kegs that can be used for up to 30 years.