In an Innovation Spotlight feature published on our website earlier this year, Hatzopoulos S.A introduced X-CYCLE, a range of recyclable films that had recently been announced as a finalist in our 2019 Sustainability Awards. Off the back of this, we spoke with Lefki Prountzou, the company's marketing and communications manager, to learn more about the range and what the future holds for it.
Please could you introduce the X-CYCLE range to our audience?
Minimizing waste with packaging designs that have low weight and volume is key in a circular economy. But an equally important objective is to design flexible packaging so that it will be correctly disposed of, collected, and efficiently sorted into suitable material fractions for recycling. X-CYCLE refers to the complete recyclable packaging range that we recently introduced to the market which makes reality our approach towards a truly circular economy.
Following several years of research on flexible packaging design for recycling, the specific target for the development of this range was to convert conventional flexible packaging formulations into their recyclable equivalents, whilst simultaneously preserving the protective properties and functionality of the original traditional materials.
The X-CYCLE recyclable range is comprised of three different film categories: X-CYCLE PP, X-CYCLE PE, and X-CYCLE POLY, each one of which is designed for recycling through their corresponding recycling stream for plastics, where available: polypropylene, polyethylene, and mixed polyolefins respectively.
Decisions around the choice of all the different elements used in flexible packaging – materials composition, adhesives, coatings, inks – influence how the packaging is identified, disposed of, and managed in the waste recycling stream.
Incorporating the industry guidelines for flexible packaging design for recycling (such as CEFLEX consortium, OPRL), we offer with X-CYCLE both monomaterial and homogeneous composite solutions, which take into account all important packaging design choices and factors that finally impact the mechanical recycling process and the quality and quantity of the recycled materials produced.
Complementing the sustainability benefits already offered by flexibles compared to other packaging formats, the novel X-CYCLE films can combine recyclability, high-protective properties, high performance, and many-fold add-on packaging functionalities together, to meet diversified needs and packaging requirements.
How does the range work in practice – what sort of applications is it suited to?
Thanks to their mechanical properties, the X-CYCLE films have demonstrated very good performance on various different packaging lines. Also, our solutions are compatible with common zippers and degassing valves, being suitable for packaging a broad range of consumer goods, such as coffee, dry nuts, confectionery, etc.
Of course, depending on the recycling stream selected and the degree of film replacement for each project (in certain cases a radical film change is required), collaborative work from machine suppliers and customers may also be required, to reach optimal machine performance.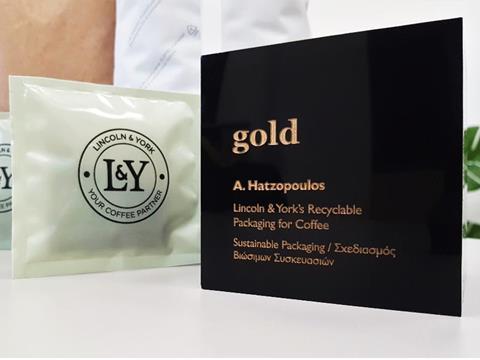 Last year, X-CYCLE was announced as a finalist at our 2019 Sustainability Awards. Have there been any developments with the range since then?
The major development since last year's success is that X-CYCLE solutions have now been taken one step further, as commercial projects that can now be found on the retail shelves. In close collaboration with our partners in 2020, we have brought to several export markets our innovative films, to pack branded products in a new, sustainable, and recyclable packaging based on the X-CYCLE concept.
One of these successful commercial projects was the development of Lincoln & York's Recyclable Packaging range for coffee. In partnership with the UK coffee roaster we designed a series of high-barrier, all-PE films, suitable for recycling through the recycling stream in the UK for polyethylene.
Available in different designs and formats - 1kg through to 250g retail bags and single coffee bags -, the new Lincoln & York coffee range carries a clear environmental claim, in line with Lincoln & York's CSR strategy, which is detailed on their website www.lincolnandyork.com.
Chris Tough, Marketing Manager at Lincoln & York, told us: "Sustainability will be a defining trend in almost every aspect of life over the next 10 years. Modern consumers are driven to buy products that they believe are 'good', and are increasingly interested in how the products they purchase are sourced and produced. According to Global Web Index, 64% of consumers identified recyclable packaging as an environmentally friendly solution they understood.
Getting ahead of this trend, Lincoln & York released our recyclable film for coffee, the first to market in the UK. As a key part of our CSR strategy, our ambition is to have 100% of our packaging recyclable by 2024. The X-CYCLE film developed for us by Hatzopoulos S.A. is suitable for roasted coffee and gives the same 12 months shelf life as our standard film."
This recyclable packaging range has received this year's GOLD "Packaging Innovation Award" 2020 at the internationally-recognized Greek packaging competition.
In addition, we work in parallel for the further improvement of the different X-CYCLE formulations and alternatives, to achieve even better environmental metrics, higher performance rates, and supply chain/production optimization.
What inspired the creation of the range?
Packaging sustainability is inevitably interwoven with the zeitgeist of the new decade, resulting in the development of new eco-conscious strategies and projects at every point of the supply chain. Hatzopoulos S.A is dedicated to achieving the goals set by the company, as well as its global partners, with regard to packaging sustainability.
Focused on our vision of a better future for our planet, we innovate for the development of new packaging solutions that will define the future of flexible packaging, such as X-CYCLE. By replacing traditional film structures with X-CYCLE, we aim to help solve our customers' sustainability challenges, adding recyclability to our already high-performance packaging films.
What does the future hold for X-CYCLE – are there any planned additions?
The X-CYCLE film formulations are continuously improved and refined, along with the relevant improvements taking place on the base films' production side.
In parallel, with circularity as the main driver, the R&D team of our company works intensively for the development of additional sustainable solutions that would also incorporate bio-based and recycled content in their formulations.