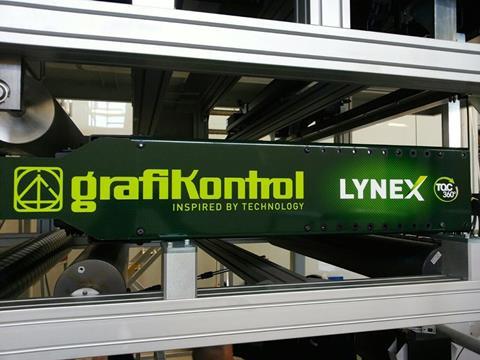 Grafikontrol, a leading control systems manufacturer for the printing industry, will be attending Labelexpo from September 25 to 28 in Brussels, to introduce all LYNEX system's features in label control at stand no. 11D09.
LYNEX is part of the Grafikontrol TQC-360° modular platform, developed to provide printers with an overarching solution, which guarantees quality, combining top quality performances with top-drawer support.
Presented for the first time in the label market at Labelexpo 2015, LYNEX is a 100% inspection system of the printed web, that enables automatic detection and classification of every defect. Its ability of continuous full width image inspection with its easy of use have made it in a short time an appreciated and sought after system by label makers.
Thanks to its modern multitasking interface implemented on a 23" high-resolution multi-touch monitor, the operator can analyze the entire format in real time and benefit from automatic detection of both print and media defects. Immediate alarm, when imperfection is detected, eliminates defective material. LYNEX also provides production analysis and data collection.
"We are proud we have become one of the protagonists in the label industry in just two years, and our control systems are present at various European and American label printers", says Paolo De Grandis, Grafikontrol's Sales Director and Partner. "Attention to customer needs has led us to create more and more powerful systems, which guarantees the detection of defects of dimension up to 0.1 mm across the printed area."
LYNEX is a highly flexible system and combines one or more linear colour cameras, configurable as needed, that can work at production speeds up to 900 m/min without changing the image resolution. LYNEX is suitable for defect checking on any type of printing and substrate. White LED lighting ensures quality and light distribution without any degradation of the image, even on reflective materials and inks.
Grafikontrol is pleased to invite visitors interested in label control to see LYNEX live demonstrations on a print simulator in the Grafikontrol booth no. 11D09 and LYNEX installed on a web press in the Lombardi Converting Machinery booth no. 11C53.
More info: