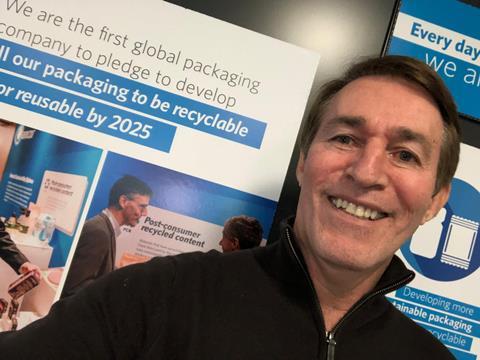 Amcor CCO Michael Zacka is working in the company's Zurich HQ out of solidarity with production staff who are keeping vital supply chains working during the pandemic. He shares his perspectives on the challenges and implications of the pandemic and lockdown.
In times of crisis, what we take for granted can have new importance and urgency. Many people, even a few weeks ago, may not have given much thought to the complex supply chains that put fresh food and safe medicine on shelves. Today, Covid19 has made this front-and-centre for millions of people focused on how to feed and care for their families.
Packaging has a vital role to play in making sure communities continue to get reliable and long-lasting food, safe medicines, and water and other beverages. The partnership between consumer packaged-goods companies and the packaging industry keeps people nourished and healthy during the good times and continues to do so in challenging times.
As supply chains are affected and people adapt their lives – no longer eating out, shopping less frequently but often in larger quantities – we are helping to make sure consumers can get the products they need to store and use in their homes.
From our global perspective, we see collaboration reaching new heights. Amcor teams in more than 40 countries are responding to the challenge and helping our customers meet demands from consumers. We have put in place a host of measures to protect our people, our customers, and our business partners so that, together, we continue to deliver while also staying safe.
We are also seeing organizations, including many Amcor customers, go above and beyond to help fight this virus; whether it is donating soap, sanitizer and food or stepping up production, the industry is taking exceptional measures to respond to these exceptional events.
We are doing our bit, too, by contributing to the communities where Amcor operates: from donations of materials and funds to adapting our manufacturing to make general protection masks, we are using Amcor's scale and resources to join the fight against coronavirus.
We have stepped up production in many of our sites so that Amcor packaging can continue to do what it does best: keep essentials fresh and safe, protect products through the supply chain, maintain long shelf-life, and help people preserve and use products at home.
It's not only our manufacturing teams that continue to deliver. Across Amcor, we are demonstrating our values and maintaining focus on delighting customers and continuing to innovate more responsible packaging. Our 1,000 R&D experts remain steadfast in their commitment to developing all our packaging to be more sustainable, and ready for better end-of-life outcomes, by 2025.
Challenging times bring out the best in people and in businesses. We are grateful and proud of the 50,000-strong Amcor team who are working to keep supply chains moving so people are fed and safe. We also salute our customers and partners who are innovating and collaborating with us even more closely.
Amcor continues to be well positioned to maintain delivery to our customers thanks to our global footprint, strong financial profile, and – most of all – the dedication and resilience of our people.