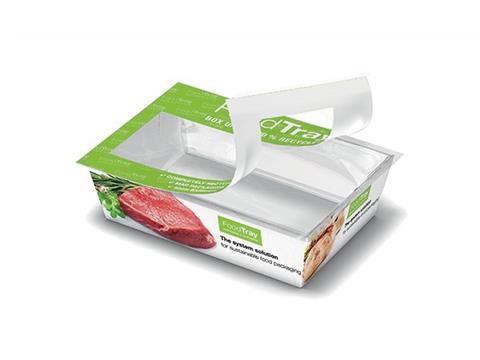 GEA has launched a new solution, FoodTray, that the company says combines the advantages of thermoforming technology, cardboard and film, to create a pack that helps reduce food waste and meets the demands for significantly higher recycling rates for plastic packaging.
FoodTray is an ecological carton/film composite developed by GEA and its industry partners to be assembled on the company's thermoforming packaging machine, a solution whose components can be separated at the end of the supply chain.
Thanks to the cooperation from the cardboard, film and engineering sectors, including the Roba Group, Schur Flexibles Germany and Van de Velde Packaging, FoodTray combines the criteria of product claim, haptics, safety, sustainability and industrial production processes.
This latest packaging innovation is made from cardboard, formed almost entirely from natural raw or recycled material, whilst film provides a barrier.
Greg Austin, GEA's UK Sales Manager – Slicing and Packaging Equipment, said: ''FoodTray is a great solution for customers looking to reduce plastic in packaging without compromising on shelf-life, food safety and presentation. It is also an in-line system that fully integrates into our thermoformer process. The complete solution is available to see at the GEA Packaging Technology Day at our factory in Germany on 13th November."
Reducing film content by up to 70 per cent, fossil-based raw materials are replaced with fibres from renewable raw materials so that content is more than 80 percent recycled. At the same time, there is no compromise in terms of stability and, likewise, the cardboard and film can be easily separated and recycled by the consumer.
The film is thermoformed and sealed directly to the inside of the cardboard box, at which point the customer-specific packaging process can be implemented. Investment costs are low and the result is ecologically sustainable packaging with MAP heights ranging from 20mm to 60mm and skin versions up to 20mm, while cardboard is used on the outer box.
Brand information can be printed over the entire surface, facilitating high-quality product presentation and labelling as required. Companies have the opportunity to demonstrate their commitment to using resources more mindfully by investing in this sustainable solution.