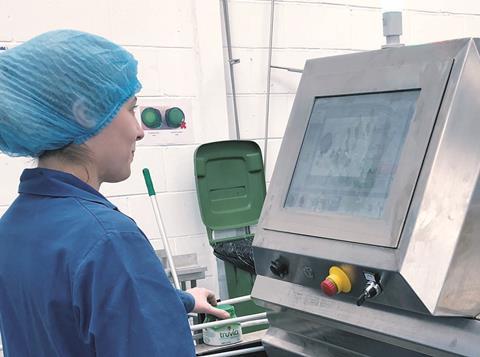 Eagle Product Inspection has very recently launched an X-ray platform which seeks to deliver high-inspection capabilities all the way from instruction to the software and interfacing systems, to the mechanical hardware. By integrating client's detector technology to find smaller contaminants and run fast, Eagle Product Inspection aims to combine to give the best of both worlds with the view to eliminate false rejections.
Ciaran Murphy, Ishida adds that the pharmaceutical industry is driven by regulatory bodies rather than the end user. "The hot topic is blockchain traceability, from the farm to the fork. This is following a very similar direction towards what the pharma industry has been doing well for a considerable amount of time now." Ishida has a number of IDCS data packages for checkweighers to monitor production and improve efficiency. Data capture and regular verification can help assist with market compliance.
Down the supply chain
Some of the large food retailers are delivering far more exacting quality expectations- which in turn are being pushed back through the supply chain. Simon King explains this is presenting a major challenge for equipment providers and driving the need to deliver higher performance.
Retailers cannot afford a recall or contaminant issue, "We've seen the consequences of that many times," underlines Simon King.
Brand protection and food safety are the predominant factors. Last year, a nationwide crisis in Australia saw its multi-million dollar strawberry industry suffer financial losses after needles were found in the fruit. "There is always an element of contaminant risk: this malicious attack is probably one of the hardest examples to address," Phil Brown believes. "We were involved in helping to resolve this issue and supplied our equipment. How you apply the equipment to maximise finding contaminants is key." It's important to minimise risk as much as possible.
Ishida's Ciaran Murphy adds that the more demands regulators and retailers are placing on food producers- this in turn goes down the chain towards the equipment providers. "Retailers still carry out independent audits and historically these used to be very prescriptive- for example indicating exactly where a food producer needs to install a metal detector on a production line.
"M&S has recently moved towards providing guidance rather than a prescriptive code of practice. I think a lot of retailers will move in this direction." Ishida is seeing its role as moving from providing equipment towards partnering with food producers to offer consultancy.