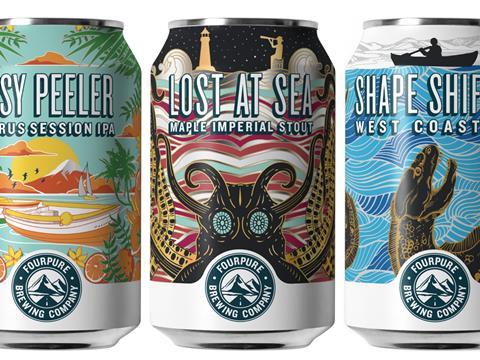 UK-based Fourpure Brewing Co. has announced a cross-business rebrand launching this September. The new look, which was managed entirely through Fourpure's in-house brand and design team, is positioned to reflect the creativity and innovation of the current craft beer market. Playful, adventure-themed cues are brought together with a distinctive white 'runway' band and new logo which features across the cans, font badges and merchandise.
The packaging unifies Foupure's current range whilst also introducing some exciting NPD. The existing core range has expanded from four to eight beers with customer favourites Shapeshifter West Coast IPA, Juicebox Citrus IPA and Easy Peeler Session Citrus IPA all receiving a facelift, whilst new editions Lost at Sea Maple Imperial Stout and Monsoon Juicy Pale (draft only) offer exciting beers for the export and London-direct markets.
Longstanding features of the Fourpure stable, Session IPA, Pilsner and Oatmeal Stout have each received a full makeover, changing to: Hemisphere Session IPA Basecamp Pilsner and Last Train Oatmeal Stout.
Adrian Lugg, head of marketing at Fourpure Brewing Co. commented: "I think we've succeeded in creating something that perfectly captures Fourpure's character. Although our previous branding served us well over an incredibly successful six years for the brewery, we wanted to invest in a rebrand that represents where the craft beer movement is at now. Playing on Fourpure's well established association with adventure, the new design really stands out on the shelf and at the bar, with eye-catching packaging that captures customers' imaginations. Our new runway brand device and adventure inspired logo are present throughout the range, creating a slick, clean, unifying theme that will be instantly recognisable to our customers."
The rebrand comes off the back of a successful launch of the brewery's new Basecamp taproom earlier this summer, showcasing the new branding as part of the brewery's broader marketing strategy to enhance the customer experience and engage with fans in situ. The new taproom encompasses Fourpure's 'Inspired by Adventure' theme throughout, with a 12ft mural forming the backdrop of its 'departure lounge', a purpose-built meeting room called the 'Treehouse' with full floor to ceiling glass walls, and a 43-tap strong horseshoe bar complete with brand new glassware.