Announcing the finalists of the Sustainability Awards 2018! The seventeen independent judges for the leading competition for innovation in sustainable packaging have graded all the submissions over the summer – and this week Packaging Europe is revealing the top four entries in each category. The six category winners and overall Sustainability Awards 2018 winner will be unveiled at Scanpack on 23 October.
Here (in alphabetical order) are the four finalists in the 'Recyclable packaging' category, which celebrates the most significant innovations in packaging design and materials to boost recycling rates:
Finalist A:
EnShield Natural Kraft - submitted by WestRock
Overview
WestRock Company, a leading provider of differentiated paper and packaging solutions, recently introduced EnShield® Natural Kraft, a fully recyclable paperboard with high oil and grease resistance. This products' sustainability features and natural, brown aesthetic make it the ideal choice for foodservice and bakery brands focused on improving their sustainability and attracting eco-conscious consumers. EnShield Natural Kraft is an innovative product that achieves a Kit 12-rated level of oil and grease resistance without the use of poly coating.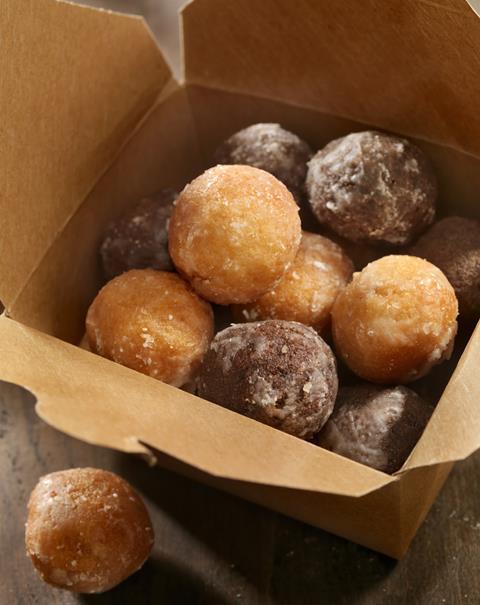 Instead, EnShield uses a proprietary aqueous coating that is applied in-line, eliminating the need for additional manufacturing steps. Kit 12 is the highest rating for oil and grease resistance on the scale per TAPPI Standard T559. This grease barrier is achieved without the use of polyethylene or fluorinated chemicals, which many brands are working to eliminate from their packaging. Not only is this product repulpable and recyclable, it is made using sustainably sourced, renewable fibre – a signature of WestRock's paperboard products.
Impact
EnShield Natural Kraft performs very well when compared to competing substrates on key sustainability metrics. Using PIQET v 4.0.2, WestRock conducted life cycle analysis (LCA) of packaging made from EnShield Natural Kraft along with poly-coated kraft paperboard and rigid plastic solutions for comparison points. This analysis has found that EnShield Natural Kraft has significant sustainability advantages.
Compared to Poly-coated Kraft Paperboard:
91% reduction in solid waste
42% reduction in cumulative energy demand
42% reduction in eutrophication
69% reduction in climate change
28% reduction in minerals and fuel
25% reduction in water use
Compared to Rigid Plastic:
91% reduction in solid waste
62% reduction in cumulative energy demand
52% reduction in eutrophication
73% reduction in climate change
81% reduction in minerals and fuel
38% reduction in water use
These differences are primarily driven by the elimination of poly and the recyclability of EnShield Natural Kraft relative to the alternatives. Additionally, ENK does not contain PFCs, which is a concern for may brands.
Finalist B:
FOODBOARD™ virgin fibre - submitted by Mayr-Melnhof Karton GmbH
Overview
The protection of consumer health is the top priority for the food packaging supply chain. Discussions about mineral oils in food started in 2010. It therefore became an urgent challenge to find the cause of the mineral oil issue and to identify possible solutions.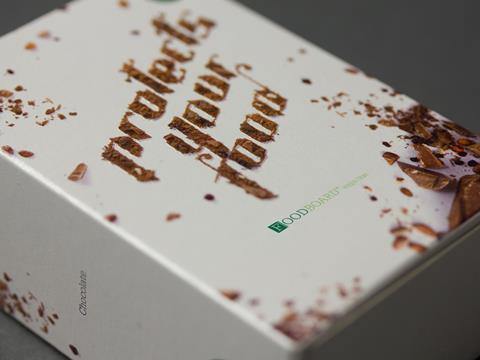 With FOODBOARD™ virgin fibre, Mayr-Melnhof Karton has developed the next generation of cartonboard, which ensures the highest product safety: a virgin fibre cartonboard with an innovative barrier concept as the core component. FOODBOARD™ virgin fibre shields packed food against the migration of defined unintended substances such as mineral oils, phthalates and bisphenol A. The barrier provides comprehensive protection against penetration from printing inks and the environment, which can infiltrate packed food during transportation, storage and at the point of sale. Accordingly, FOODBOARD™ virgin fibre reliably protects against cross-contamination and means transparency throughout the supply chain.
Impact
FOODBOARD™ virgin fibre is a mono-material, a pure cartonboard solution and not an extruded or laminated compound as other existing functional barrier solutions, and it is therefore fully recyclable and bio-degradable. It is available with FSC® or PEFC™ certification.
FOODBOARD™ virgin fibre helps to ensure consumer confidence as well as secure existing fibre-based markets. With its functional barrier FOODBOARD™ virgin fibre can replace existing plastic packaging, inner liners or plastic compounds which have been used to prevent migration in the past.
Cross-contamination is one source of mineral oil migration. Mineral oil migration cannot therefore be prevented by the use of standard plastic solutions or folding boxes made of cartonboard without a barrier. Only a functional barrier between the food and the cartonboard is an effective solution. These include inner bags made of modified polypropylene, polyethylene terephthalate and aluminium. FOODBOARD™ virgin fibre offers with its innovative barrier concept the eco-friendly alternative.
Finalist C:
Garment hanger recycling - submitted by Braiform
Overview
Over fifteen billion garment hangers are used annually worldwide, the majority only once, therefore making them a major contributor to the global issues of waste. The waste of garment hangers at this rate is not environmentally or economically sustainable in the long term with landfill sites, in many global locations, becoming exhausted by the year 2018.
Unlike other companies, instead of just making hangers, Braiform re-uses them, reducing the pollution generated from manufacturing by 70%. The hangers it provides are specially designed to go through the cycle many times and still appear in top condition in-store.
Using its own waste management stream has the following results:
Less than 1% goes into general waste
Card is sorted and sold on to recycling partner
Steel is sorted and sold on to recycling partner
Plastic is shredded on site and moved on to compounding partner
PS is sorted and put back into virgin production
Impact
Although Braiform strives to maximise the number of hangers re-used within client programmes, there are always those that have come to the end of their usable life, either broken, dirty or obsolete. These hangers are not put back into the waste stream to end up in landfill — Braiform recycles these and reuses the raw materials back in virgin production of new garment hangers.
Waste Management Programs are extremely important at Braiform, which aims to recycle 99.5% of all returns from store including any by-products of the Re-Use program.
In addition to sustainable product design it is dedicated to ensuring its supply chain is both environmentally sustainable and ethically responsible. Braiform now works alongside SEDEX (the supplier of ethical data exchange), a not for profit membership organisation dedicated to driving improvements in responsible and ethical business practices in global supply chains.
Finalist D:
X-EnviroPouch - submitted by RPC bpi protec
Overview
The stand-up Doy Pack sealed pouch has become a highly popular pack format in recent years – its stand-up and easy open properties are particularly appreciated by consumers and the same stand-up ability also provides great opportunities for retail display.
However, the manufacture of many of these packs incorporate laminates, and this means that they cannot be recycled. A solution to this problem is the new X-EnviroPouch from RPC bpi protec, which is produced solely from polythene film and is therefore fully recyclable. This modern consumer pack format retains all the convenience benefits of a Doy Pack, including the availability of a prestoclose seal that enables it to be re-closed, and is ideal for a wide variety of applications.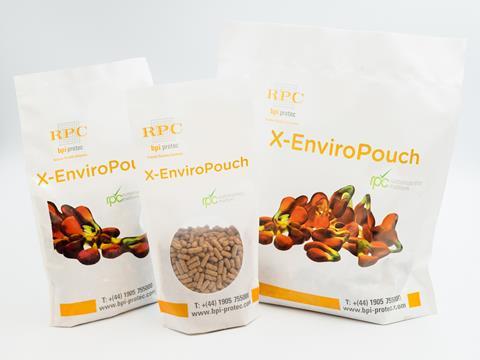 With a culture of innovation, the RPC bpi protec team set about meeting the challenge. Using the latest PE polymers, a film was developed with high seal and rigidity to ensure the pack provided the necessary functionality.
As a leading extruder of co-extruded films RPC bpi protec was able to develop the structure and provide the X-EnviroPouch film with strength, durability and printability to enable a fully recyclable pack. X-EnviroPouch packs can be recycled with other film waste and dropped off at recycling points or supermarket collections of carrier bags.
Impact
Traditional stand-up Doy pouches enable a wide variety of today's consumer products to be conveniently packaged, however their traditional laminate structure makes them very difficult to recycle. X-EnviroPouch is a new pouch solution that delivers functionality with full recyclability, bringing stand-up sustainability to this convenient and popular packaging format.
X-EnviroPouch is also designed to protect and preserve, extending the shelf-life of goods and minimising food waste and the impact this has on the environment. The more food we waste, the more we have to produce – minimising this waste through packaging is therefore a key benefit.
For manufacturers and retailers, X-EnviroPouch can be specified with a gloss or matt print finish whilst allowing aesthetically pleasing designs to be created to maximise brand image and on-shelf impact. With the option of additional features such as recloseability and easy opening, its functionality and shelf appeal ensure it meets the latest consumer trend needs. From its ability to enable on-the-go-snacking, to providing a solution for effective portion control, X-EnviroPouch helps to reduce waste and deliver greater functionality from a fully recyclable pack.
Developed by the R&D team, X-EnviroPouch is an integral part of RPC bpi protec's commitment to create products and develop appropriate working practices that help to protect the environment and support the requirements of the circular economy.
In summary, X-EnviroPouch is a modern consumer pack format solution that is now 100% recyclable which delivers the functionality and design capability consumer's modern lives demand.
Want to be the first to know the winners of the Sustainability Awards 2018? You're welcome to join us at the Awards ceremony and the Sustainable Packaging Summit at Scanpack in Gothenburg on 23 October 2018. Contact Packaging Europe by email or Twitter for details.