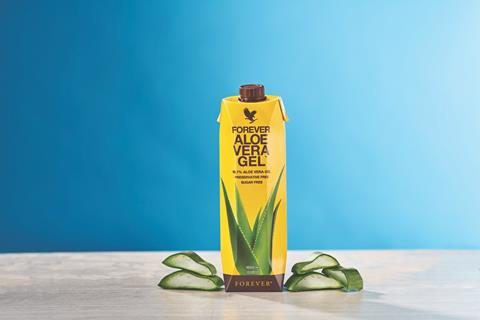 Forever Living, celebrating its 40th anniversary this year has reformulated its flagship product range so its aloe vera drinking gels now contain even higher concentrations of aloe. Forever's founding product, the aloe vera drinking gel boasts 99.7% inner leaf aloe gel, and now also contains vitamin C.
Using a new, aseptic manufacturing process, and the introduction of Tetra Pak packaging the drinking gel range has higher vitamin retention and is also preservative and sugar free.
Rex Maughan, the company's founder said, " As I learned more about Tetra Pak Technology and its benefits and saw the new artwork, I felt confident that this was a powerful evolution for Forever and a big step into the future".Over eight million gallons of aloe vera gel passes from Forever Living's plantations to its manufacturing facilities each year. Aloe Vera of America, located in Dallas, Texas, is the manufacturing hub for the entire aloe operation around the world. This state of the art facility boasts the latest in manufacturing technology, product labs, and product research and development.
After hand harvesting, each leaf is transported to Forever's onsite processing station for washing and filleting. Each leaf is washed twice before filleting it by hand; hand filleting ensures that the rind is fully removed and only the nutritious inner leaf gel is left. Next the aloe vera gel passes through several quality check stations and any anomalies are removed before it travels to the aseptic tank for processing. This whole process is completed within six hours of harvesting to ensure all of the aloe's beneficial properties remain intact. During the aseptic process the aloe is flash heated to lock in the benefits and freshness, while safely reducing bad bacteria without the need for preservatives. This process ensures the final product tastes as fresh and is as nutritious as possible. The pure aloe gel is then bulk packed into large totes for transportation to one of Forever's manufacturing facilities.
Once the bulk gel reaches the manufacturer additional ingredients are added as required by its proprietary formulas. The product is tested to make sure it meets all product specifications and is then flash heated a second time. This ensures that any of the added ingredients haven't introduced anything into the formula that could compromise its quality or integrity. From here the formula heads to the packaging line. Each package is flat until filled with Forever Living's aloe vera drinks. This sterile packaging is moulded and crimped into the Tetra Pak shape as it's filled; once full the cap is added in a vacuum sealed sterile chamber. Final quality inspections are performed, ahead of shipment.