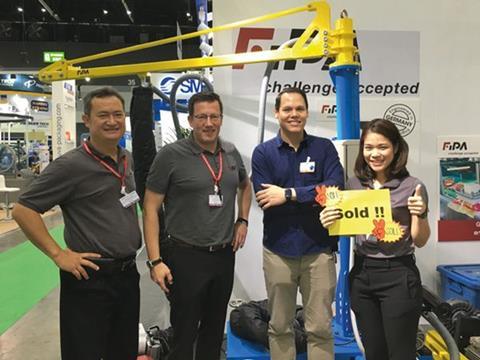 FIPA GmbH presented an ergonomic handling solution at the Propak Asia packaging trade show in the form of the FIPALIFT tube lifter and a mobile jib crane. The solution convinced the confectionary manufacturer PhongChitt Co., Ltd. in Thailand.
PhongChitt Co., Ltd. manufactures the Jolly Land brand of confectionary: gummi bears, cola bottle gummi candy, candy canes and fruit gummies. The main raw ingredient sugar is delivered in 25-kg sacks. Up to now employees have moved the sacks without using any aids – an exhausting task that hardly anyone wanted to perform. This type of handling is also associated with expensive labor.
The lifting solution using the FIPALIFT Expert tube lifter won over the confectionary manufacturer's chief engineer. It means that the sacks do not have to be moved in such an arduous way.
Another advantage is the simple operation of the complete system. FIPALIFT lifts the load gently when the operating lever is pulled up, while pressing it down again lowers the tube. With a lifting force of 30 kg up to 230 kg, the FIPALIFT Expert is perfectly suitable for lifting heavy sacks and boxes. It is also possible to move heavy plates, discs or sheets, for example for loading machines.FIPALIFT Expert has a range of versatile uses. Using an adapter, the FIPA modular gripper assembly can be designed to handle every conceivable load. Numerous vacuum cups, gripper solutions and traverses are available. With every solution, customers benefit from the high level of expertise of the company in the area of gripper assembly. The FIPA design team develop uncomplicated customized solutions for special requirements not covered by the standard program.
More info: