Next in our series of Sustainability Awards finalist interviews, we find out more about SIPZ, an innovation that is set to disrupt the nutrition and performance powder space.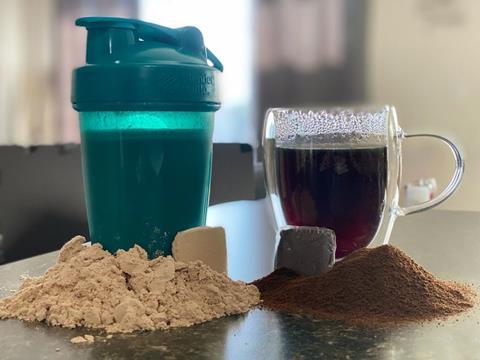 You're a finalist in the Sustainability Awards 2022. Congratulations! To start off, could you summarise your entry, SIPZ, in less than 50 words?
SIPZ is a zero-waste single-serve primary packaging solution for powdered products. In utilizing our leading-edge "Eco-Serve Dissolving Pouch Technology" we can encase a range of powders in an edible film made from natural and organic ingredients. This is a game changer for powder-based beverage manufacturers and their consumers.
Why do you think the judges were impressed with your entry? Tell us about what is innovative about your project and/or about its impact on packaging sustainability.
Our entry is the first Pullulan based polymer of its kind that has been developed specifically to encase food and beverage powders. A tasteless, odourless film that will not only provide ultra-convenience to a product's end user but act as a sustainable alternative to unnecessary single and multi-serve packaging.
We envisioned a future in which we dramatically cut the carbon footprint within beverage manufacturing and logistics. Our focus is to have a tangible impact in the reduction of water usage and eliminate the production of single-use plastics.
When and how do you intend to launch/commercialize this innovation?
We are now ready to commercialise and are looking to license our technology to qualified strategic partners. Through these partners we will roll out our sustainable technology to help them reduce the impact of their operations, increase their user experience, and position their business to become a force for good.
You're shortlisted for the Active & Intelligent (Pre-Commercialized) category. What do you see as the key demands, challenges, and opportunities in relation to active and intelligent packaging?
Demands - The key demands we're already seeing interest on is the ability to create a pre-measured serving that provides 'No Stress, No Mess'. We can create a Grab 'n' Go option that is an eco-friendlier alternative to their standardised packaging model, where convenience doesn't cost the earth… it protects and preserves it!
Challenges – Our challenges revolve around long term shelf stability and achieving a minimum of one year expiration across an extensive range of powders. Additionally, there's the matter of market adoption and its speed of transition, for there is still speculation and resistance about the need for sustainability and greener product/operations out there, despite data suggesting consumers are willing to pay more to support this trend.
Opportunities – We believe the most exciting aspect of our film is its functional nature. The ability to add vitamins, minerals, and natural additives directly into our polymer makes it truly worthy of being called 'Active and Intelligent'. Imagine the options and innovation this could extend to your favourite brands, creating new product lines with added benefits and exciting variations.
The opportunity is there for us to scale into hundreds to thousands of food and beverage applications within the powder co-packing and manufacturing industries.
In addition, we are encouraging consumers and companies to not only act greener but think greener. This will lead to more than just a transactional relationship but one where we can achieve global recognition through our technology, by positioning our brand and theirs at the forefront of change.
Winners will be announced at a special awards and networking dinner taking place the evening of the 14th of November during our 'Innovation Horizon' event. You can book tickets for the dinner and/or the conference, which reveals the cutting-edge sustainable packaging innovation that will be needed over the coming 5+ years, here: https://lnkd.in/eyUHXFm