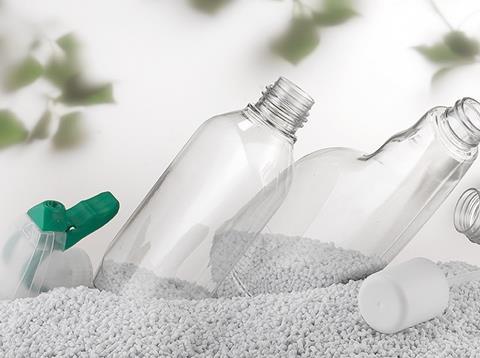 Next up in our series of Sustainability Awards finalist interviews is Mibelle Group with its PET bottles that are made from 30% CO2 - a finalist in the Pre-Commercialized Innovation category.
---
Congratulations on being selected by the international judging panel as a Sustainability Awards 2021 finalist! Could you please introduce your successful entry and what's innovative about it?
From climate killer CO2 to environmentally friendly product - the Mibelle Group is focusing on a new generation of sustainable packaging materials.
In 2021, the Mibelle Group is launching PET bottles that are made from 30% CO2, which would otherwise have been released into the atmosphere as a greenhouse gas.
Global environmental issues require a fundamental shift in raw material production, away from fossil- or plant-based raw materials such as petroleum or palm oil. It is time for a new generation of sustainable raw materials!
CO2 enters the atmosphere as a greenhouse gas in many places. With the CO2 recycling technology of the startup LanzaTech, it is converted into ethanol and forms the raw material for many other materials, e.g. plastic packaging. Plastic packaging made from CO2 recycling binds greenhouse gas, reduces petroleum consumption and can be integrated into existing recycling cycles.
The possibilities of biotechnology to transform greenhouse gas into sustainable raw materials in an ecologically and economically sensible way have been occupying the scientific community for some time. Research institutes and startups have developed approaches, but these have long lacked the potential for commercialization. LanzaTech overcame this hurdle in 2018, and a first production plant was put into operation. Mibelle Group recognized the technology's potential for the consumer goods market early on and enabled its use in this area with its expertise and commitment.
What are the environmental challenges in packaging that your entry addresses, and what impact do you hope it will make?
In the area of plastic packaging a fundamental system change is essential. Our project aims to initiate and promote such a system change!
A change from fossil raw materials to plant-based raw materials would not be the solution. For the cultivation of plant-based raw materials, no matter how sustainably they are grown, land is always needed and biodiversity suffers. We want to break this vicious cycle and enable a real shift towards sustainable feedstocks.
Currently, almost 400 million tonnes of plastic are produced per year*. We are continuously working to increase the amount of recycled material in our plastic packaging, but a certain amount of virgin plastic will not be avoided in the future and should be produced in the most sustainable way. CO2 recycling technology is a solution.
Plastic is currently produced from fossil feedstock and occasionally also from plant-based raw materials, whereby plant-based primarily means palm oil or palm kernel oil. Plant-based feedstocks, such as ethanol from wood or sugar beet, would also be an improvement on the existing feedstocks, but the feasible quantity is far too small to make the necessary impact on the market.
Plastic packaging made with ethanol from CO2 recycling is also the solution in terms of feasible volume. Currently, a quantity of about 150 thousand tonnes is already available, and in the next 10 years the quantity can be expanded to many millions of tonnes.
I'd like to ask you about the broader picture beyond your successful entry. 'Sustainability' in packaging is multi-dimensional – both in terms of objectives and challenges. Could you comment on the most important roadblocks you identify from your position in the value chain, and the kinds of solutions you would like to see addressing them (e.g. areas of technological innovation, collaboration, regulation)?
The topic of 'sustainable packaging' is one of the great challenges of our time. Issues such as global warming, water pollution, loss of biodiversity and many others play a role.
The solution requires more than just one technology. Existing approaches, such as mechanical recycling, need to be complemented by new innovative technologies. Biotechnology offers some promising solutions here. However, implementation in pilot and production plants requires the investment of large amounts of capital. Many good approaches from this technology are therefore not realized. Our partner LanzaTech has overcome this hurdle and we are proud to support them in realizing this sustainable technology.
If we are to solve the challenges in the packaging market, it will take courage and commitment from all involved.
*(https://www.nabu.de/natur-und-landschaft/meere/muellkippe-meer/muellkippemeer.html).