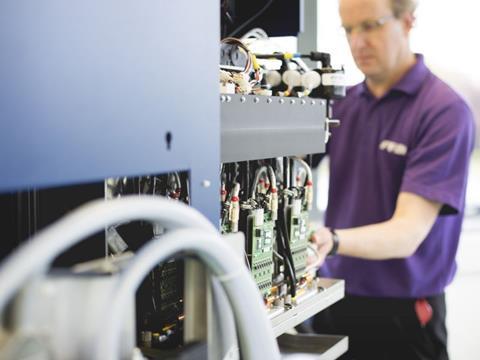 FFEI Ltd, the global developer of award-winning digital imaging solutions, has announced that Printbar Uncovered would be launched at LabelExpo 2017, on stand 9C18. Printbar Uncovered will enable OEMs to deliver their own unique digital hybrid print solution to the labels and packaging market.
Printbar Uncovered brings together proven market ready printbar technology, powered by Xaar, and FFEI's inkjet integration expertise. OEM clients are therefore able to customise and bring to market an inkjet printbar solution that meets the requirements of customers, under their own brand. Ultimately Printbar Uncovered enables OEMs to deliver high profit margins on short run jobs through the range of value added embellishments supported - spot varnish, cold foiling, rotary white screen replacement, variable data labels and haptic (high-build and texture) effects.
Andy Cook explains "PrintBar Uncovered is totally flexible. OEMs get to specify exactly what they need from the final printbar system to satisfy the requirements of their target market and existing customer base." Cook continues "What has also impressed our OEM partners is that they have total freedom when it comes to branding. They can adapt and integrate their Printbar Uncovered solution so that it fully embodies their brand values - look and feel, quality, serviceability and support – we literally deliver the final solution without covers."
Every Printbar Uncovered system utilises Xaar printheads and Nazdar inks and can be mounted on a range of digital and traditional web-fed presses and finishing solutions - new configurations or retrofitted onto existing installs. OEMs are able to tailor the covers and colour scheme, user interface, service & support packages and print head configuration (width and colour).
'Out-of-the-box' Printbar Uncovered technology can handle a wide range of inks and fluids, including spot colours (K or CMY), protective lacquers, high-build spot and tactile varnish, heavily pigmented high-opacity over- and under- whites and cold foil adhesives. Print widths of 140 mm to 560 mm are supported with prints speeds of up to 75 m/min achievable (depending on the application).
Andy Cook added "Printbar technology presents a fantastic opportunity for OEMs of traditional flexo and finishing equipment as it presents a new way for them to bring value to customers in a single pass – it's the perfect 'hybrid' accessory."
Printbar Uncovered will be showcased at LabelExpo Europe in the digital print hall – stand 9C18
More info: