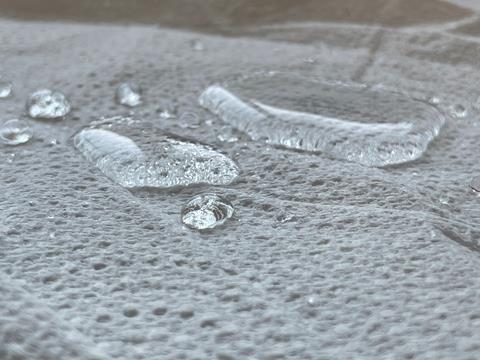 As part of our Finalist Interview series ahead of the Sustainability Awards, we spoke to CEO and founder of Cellulotech Romain Metivet about its 'green chemistry process' for paper packaging barriers, nominated in the pre-commercialised Renewables category.
You're a finalist in the Sustainability Awards 2023. Congratulations! To start off, could you summarise your entry, in less than 50 words?
Cellulotech has developed a scalable green chemistry process offering strong and unique barrier properties to paper products. This can expand their potential, make them more durable and replace unsustainable materials such as plastics, silicones or waxes while offering lower costs, lower carbon footprints and superior recyclability.
Why do you think the judges were impressed with your entry? Tell us about what is innovative about your project and/or about its impact on packaging sustainability.
Contrary to many innovations in the sustainability space, it is not only a "greener" solution that offers similar or even better performance, but it is also significantly cheaper! For some applications, it can be as much as 90% cheaper than the materials currently used.
The technology is also fascinating. Instead of adding a layer of material like with coating, we perform a solvent-free chemical reaction and attach one-nanometer molecules around the fibres. Even though you don't see or feel it, our treatment is not done just on the surface of the substrate on its full thickness (or more precisely on its specific surface). This means we can get rid of capillarity and it can be cut or folded without loss of barrier properties.
It is an original approach to provide barriers that allow for a wide range of properties depending on the initial substrate and reagent we use and are also less material-intensive since we use a few milligrams of reagent per square metre. We can work on paper, corrugated cardboard, moulded pulp or paper coated with materials such as PVOH [Polyvinyl Alcohol], MFC [Melamine Faced Chipboard] and others to combine or enhance barrier properties. Our process can be applied on 2D and 3D surfaces, and the end products remain recyclable in the standard paper stream.
Some applications we are focusing on in the packaging industry and for which we are very competitive include: reducing the grammage of paper products such as corrugated cardboard or removing waxes such as paraffin since the paper is durably superhydrophobic; replacing silicone for release liners; offering strong barriers to moulded pulp and offering similar barriers to PE [Polyethylene] for single-use packaging and some flexible packaging.
I think many judges were familiar with the chemistry behind our technology, discovered by my partner 27 years ago. However, despite the continuous interest of the industry, the difficulty of scaling up remained. Our technology brings down the reaction time to just 0.1 seconds and can now offer scalability.
When and how do you intend to launch/commercialise this innovation?
We have no shortage of interest, applications or potential clients. However, our process requires a specific piece of equipment and we need to demonstrate we can run it at the scale the industry requires. We are not worried since we have been able to reduce the reaction time to only 0.1 seconds, but the proof of the pudding is in the eating.
We are working on an industrial pilot with different partners to run trials and start commercialising it, working towards making it commercially available within the next two years. Our business model is then to equip companies with our machine manufacturing partners and licence the technology to the largest number.
You're shortlisted for the pre-commercialised category for Renewable Materials. What do you see as the key demands and challenges in relation to developing new materials from renewable feedstocks for packaging applications?
The packaging industry is understandably pretty conservative, since it is dealing with huge facilities that handle massive volumes of material with high-quality standards! Hence going from the lab to the pilot stage takes a lot of time, in order to validate different potential applications and reduce the scaling risk as much as possible.
However, we've seen a shift in the past two years where the demand for paper-based solutions and regulatory pressures has accelerated things, allowing us to secure various partners that help us reduce the time necessary to go to market.
Another challenge is the natural tendency to overengineer. Some past solutions are convenient but offer uneccessary performance when you look at what is needed for a specific application, usually at the expense of sustainability and occasionally cost.
It is crucial to properly evaluate the requirements for each packaging based on its environment and use, rather than trying to mimic past solutions with more sustainable ones. I believe our solution is an important tool for that endeavour.
What do you think are the main opportunities in this area or what future innovations do you predict in this area?
Especially when working with paper products, the packaging industry has to realise it is at the forefront of the material transition of our entire economy. Cellulose is the most abundant organic compound on earth and undoubtedly the material of the future. Depletion, environmental issues and regulations will leave us little choice but to turn toward this green gold as much as possible.
Because of its constraints in terms of volume, costs, recyclability and safety, sustainable material innovation in this space can have spillover effects for many others. We already see paper products being increasingly considered in construction, healthcare or even manufacturing with automobiles. Innovations such as ours will likely find applications besides packaging, offering more markets with high-added value to the companies that understand it.
Our technology opens up a new world of biomaterial innovation to develop new substrates or new applications. We are often approached to work on new projects made possible with this technology that we haven't even thought about and do not have the time or resources to chase all of them, hence partnering with like-minded companies is essential.
I believe frugal innovation, namely reducing the complexity of materials, will be the key to having durable and marketable solutions.
The winners of the Sustainability Awards 2023 will be announced at the Sustainable Packaging Summit, which takes place in Amsterdam on 14-15 November. The Summit mobilises leaders of the FMCG value chain, policymakers, NGOs, recyclers and investors to collaborate, remove barriers and identify opportunities on the road to sustainable transformation.
To learn more or register, visit https://www.packagingsummit.earth/amsterdam2023/.