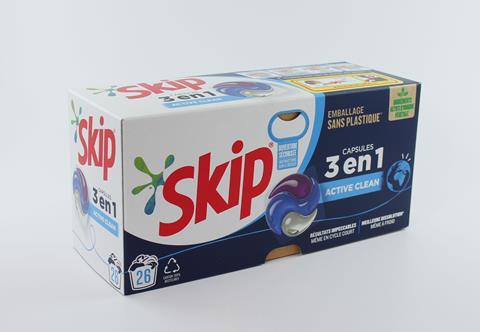 In our latest Finalist Interview for the Sustainability Awards, Graphic Packaging spoke to us about its Skip cartonboard pack for laundry detergent capsules, developed for Unilever and nominated in the commercialised Recyclable Packaging category.
You're a finalist in the Sustainability Awards 2023. Congratulations! To start off, could you summarise your entry, in less than 50 words?
Our entry is a recyclable fibre-based carton, developed for Unilever's Dirt is Good range of laundry detergent capsules. The pack, which features a childproof mechanism, combines virgin and recycled cartonboard to offer optimal performance while still keeping material use to a minimum.
Why do you think the judges were impressed with your entry? Tell us about what is innovative about your project and/or about its impact on packaging sustainability.
This new introduction to the market enabled Unilever to replace their traditionally hard-to-recycle plastic tub with a new, recyclable cartonboard alternative, preventing 6,000 tonnes of hard-to-recycle plastic from entering waste streams every year.
It was important that the carton offered equivalent performance to the previous pack so had to be mechanically robust, moisture resistant and childproof without being frustrating for adults to open when needed. Successfully balancing this convenient user experience with functionality, durability, and all-important safety required hard work, creativity, and innovation.
The carton also offers impressive billboarding opportunities. It features a large print area with a greater printable surface area, enabling excellent presentation of key marketing, sustainability, usage, and safety messages.
How has your innovation/initiative been received?
This was a significant launch for Unilever and acted as a key part of its wider sustainability strategy, which aims to cut greenhouse gas emissions and energy consumption across the product's entire lifespan. It promoted the plastic-free packaging widely as a major part of the product's value proposition, giving it equal prominence alongside the new formula, which has been optimised for use in cold (20°C and below) and short laundry cycles.
This move reduced manufacturing greenhouse gas emissions by 16% and will help consumers save up to 60% energy per use at home and reduce greenhouse gas emissions associated with the use of the product.
This commitment to plastic-free packaging is important as 70 percent of European consumers are actively taking steps to reduce their use of plastic packaging according to a study by Two Sides and Toluna. The same study found that consumers felt paper and cartonboard was the most sustainable packaging material.
You're shortlisted for the Recyclable Packaging category. What do you see as the key demands and challenges in relation to design for circularity in packaging?
There is no one ideal circular packaging solution; optimisation often requires a balancing act and needs to be data-driven based on a structured and systematised approach. The circularity of packaging has to be considered throughout its lifecycle, taking into account the raw material and its sourcing, cartonboard manufacturing, converting, distribution, product use, and recycling or other end-of-life scenarios.
At Graphic Packaging we use a Design for Environment (DfE) approach and this has become a key part of how we develop our packaging innovations from ideation to commercialisation to optimise circularity.
What do you think are the main opportunities in this area or what future innovations do you predict in this area?
The reduction of fossil-fuel-based barrier coatings is a key priority for many in the fibre-based packaging arena, and the opportunities presented by bio-based polymers are certainly of interest here.
The winners of the Sustainability Awards 2023 will be announced at the Sustainable Packaging Summit, which takes place in Amsterdam on 14-15 November. The Summit mobilises leaders of the FMCG value chain, policymakers, NGOs, recyclers and investors to collaborate, remove barriers and identify opportunities on the road to sustainable transformation.
To learn more or register, visit https://www.packagingsummit.earth/amsterdam2023/.