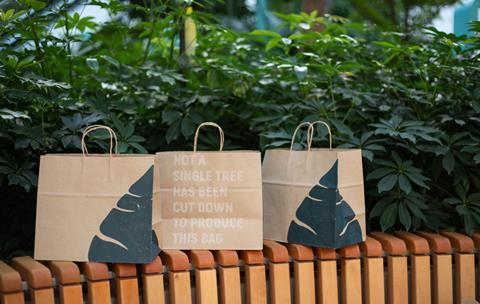 Next in our Finalist Interview series for the Sustainability Awards, we spoke to Releaf Paper's chairman and general manager Alexander Sobolenko about its shopping bags made from fallen leaves, nominated in the pre-commercialized Renewables category.
You're a finalist in the Sustainability Awards 2023. Congratulations! To start off, could you summarise your entry, in less than 50 words?
The Releaf Bag is a recyclable and biodegradable shopping bag made of paper from fibres of fallen leaves. We are turning urban green wastes into innovative and CO2 neutral paper products for brands and retailers.
Why do you think the judges were impressed with your entry? Tell us about what is innovative about your project and/or about its impact on packaging sustainability.
If someone says that fallen leaves could be turned into packaging material, it usually impresses people. Made of paper produced from fallen leaves without felling the trees, Releaf Bag gives a great green alternative to plastic or wood-paper carrier bags. They are recyclable after use for more sustainable disposal and fully biodegradable within 45-55 days. Supplied flat-packed for space-saving storage, they are ideal for carrying takeaway containers, groceries, and food-to-go.
In terms of impact, we save 17 trees per every 1 ton of produced Releaf paper; 78% less CO2 compared to traditional paper manufacturing; 15 times less water consumption compared to paper production; and 2,3 tonnes of leaves are utilized to produce 1 ton of material. Altogether, it brings us to the final of the Sustainability Awards for the second year in a row.
When and how do you intend to launch/commercialise this innovation?
We are working hard to make it happen. The product is already on the market and we are actively looking for the right customer segment for it. Driving sustainable innovation in an industry as competitive as packaging is tough, but fortunately we have some early customers, so I believe next year our product will be fully commercialised.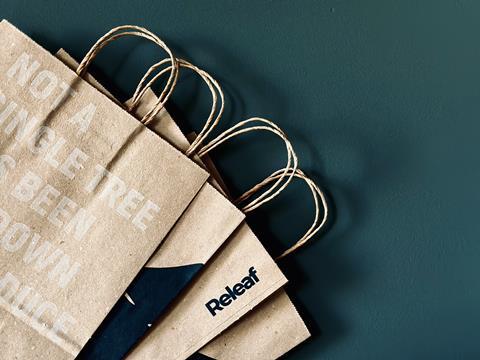 You're shortlisted for the pre-commercialised category for Renewable Materials. What do you see as the key demands and challenges in relation to developing new materials from renewable feedstocks for packaging applications?
It is great to see that the European market is really looking for sustainable alternatives to replace plastic and to speed up the transition to CO2 neutral packaging. Demand is visible, and our material has perfect footing with regards to sustainable performance. The main barrier is that large stakeholders do not hurry to implement innovative solutions.
What do you think are the main opportunities in this area or what future innovations do you predict in this area?
Our wish is that all paper packaging of the future will be CO2 neutral and made from renewable material without harming nature. This is a great opportunity for innovators to explore innovative materials and for corporations to put it into practice. There is a lot of work in this area for all stakeholders, but by working together we may create a bright and sustainable future.
The winners of the Sustainability Awards 2023 will be announced at the Sustainable Packaging Summit, which takes place in Amsterdam on 14-15 November. The Summit mobilizes leaders of the FMCG value chain, policymakers, NGOs, recyclers and investors to collaborate, remove barriers and identify opportunities on the road to sustainable transformation.
To learn more or register, visit https://www.packagingsummit.earth/amsterdam2023/.
If you liked this article, you might also enjoy:
The L'Oréal approach to packaging sustainability
What steps is Apple taking to make its packaging more sustainable?
How did Brazil achieve its 100% aluminium can recycling rate – and can it be replicated in the EU?
Experts have their say on the EU's Packaging and Packaging Waste Directive revisions