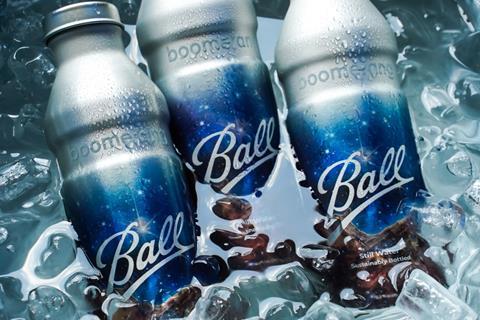 Boomerang Water and Ball Corporation's entry in this year's Sustainability Awards is Boomerang's 'semi-automated' bottling system which Ball has supplied with its aluminium bottles. We spoke to Ball's president of aerosol packaging Jay Billings and co-founder of Boomerang Water Jason Dibble about this system, nominated in the commercialised Driving the Circular Economy category.
You're a finalist in the Sustainability Awards 2023. Congratulations! To start off, could you summarise your entry, in less than 50 words?
JD: Our innovative returnable water bottle packaging solution represents a significant breakthrough in driving the circular economy by promoting reuse and reducing single-use plastic waste.
JB: We have partnered with Boomerang Water to supply aluminum bottles which are reused in the Boomerang Bottling System. The bottles are used, returned, sanitised, refilled, and eventually recycled back into aluminum bottles.
Why do you think the judges were impressed with your entry? Tell us about what is innovative about your project and/or about its impact on packaging sustainability.
JD: We believe the judges were impressed with our entry because of the innovative nature of our project and its significant impact on packaging sustainability. Plastic bottled water waste is a major environmental issue, with millions of bottles ending up in landfills and waterways each day. Our system offers a unique solution to reduce this waste by promoting reuse and eliminating the need for single-use plastic bottles.
JB: In comparison with traditional beverage packaging manufacturing and distribution systems, the Boomerang Bottling System eliminates the need to ship products long distances, secures the supply chain, provides the freshest water possible and replaces single-use plastic bottles with containers that can be used multiple times and ultimately recycled.
The patented machine can be installed at resorts, cruise ships, campuses, and hotels. This machine can process 3,000 aluminium bottles every eight hours, reusing Ball's durable aluminum bottles in a closed loop system and conserving materials from all areas of the supply chain.
How has your innovation/initiative been received?
JD: We have successfully implemented Boomerang Bottling Systems in major hospitality, industrial, and manufacturing locations, resulting in the reduction of the equivalent of over a million plastic bottles to date. By saving single-use bottles from entering the waste stream, our initiative has garnered widespread praise for its positive impact on the environment and sustainability efforts.
JB: Consumers value sustainably sourced and manufactured products. 88% of consumers agree that infinitely recycling packaging is 'important' or 'extremely important', and the industry is experiencing 2.7 times faster growth for sustainable products versus traditional goods. This partnership reflects the growing demand for sustainable packaging alternatives and has been welcomed by organisations including the Four Seasons Resort Hualalai in Hawaii, the Boca Raton luxury resort in Boca Raton, and the City of Davidson, North Carolina.
Before launching the Boomerang Bottling System, the Four Seasons Resort in Hualalai was purchasing from 400,000 to 500,000 bottles of water annually in single-use plastic bottles. Now using Ball's aluminium bottles, the resort is collecting, sanitising, and refilling on average 1,200 bottles a day. This system is proving a success across the resort and Boomerang's system reduces carbon emissions by 95 percent per bottle.
You're shortlisted for the Driving the Circular Economy category. What do you see as the key demands and challenges in relation to circularity in packaging?
JD: One of the primary demands is the need for packaging solutions designed for reuse or recycling, minimising waste and resource consumption.
Additionally, establishing effective collection and recycling systems as well as educating consumers about the importance of recycling and proper disposal are crucial challenges to overcome. Collaboration among stakeholders across the packaging value chain is also essential to ensure a seamless transition to a circular packaging system.
JB: In 2019, of the over 240 billion aluminium beverage cans (Ball's and competitors') that were put on the market in Ball's key regions, 67% of them were collected for recycling, 62% were actually recycled, and 46% were recycled back into beverage cans*. While these figures are promising, ensuring recycling points are readily available and recycling systems are running effectively is imperative in ensuring the demand for sustainable packaging is prioritised as part of the circular economy. Manufacturers also need to comply with government policies.
Despite Brazil being one of the largest consumers of cans in the world, the country has a 100% recycling rate**. This result came after 30 years of investment in recycling programmes and a historical partnership with policy makers, cooperatives, waste pickers associations and local businesses.
Manufacturers need to already be implementing sustainable practices and switching to sustainable materials which are easily recycled and reused to enable an effective circular system and be ready to meet the challenges of future policy changes.
What do you think are the main opportunities in this area or what future innovations do you predict in this area?
JB: Partnerships are certainly the future of innovation. Aluminium has also never been more important. For example, the EU has added the metal to its list of 'critical raw materials', recognising aluminium's important role in current and future sustainability efforts. The industry can expect to see further innovations with aluminium packaging, including further work on its lightweighting abilities.
JD: The development of smart packaging solutions that enable improved traceability, product freshness monitoring, and consumer engagement hold great potential. As sustainability continues to gain momentum, we are optimistic about the emergence of new and transformative innovations that will further drive the circular economy in the packaging industry.
*240 billion aluminium beverage cans were calculated by Ball's sustainability team from tons of aluminium as per its Climate Transition Plan (page 22): 'In 2019, of the over 3 million tons of aluminium beverage cans that were put on the market in Ball's key regions, 67% of them were collected for recycling, 62% were actually recycled, and 46% were recycled back into beverage cans.'
**Brazil's high recycling rate of close to 100% can be found on page 24 of Ball's Climate Transition Plan.
The winners of the Sustainability Awards 2023 will be announced at the Sustainable Packaging Summit, which takes place in Amsterdam on 14-15 November. The Summit mobilises leaders of the FMCG value chain, policymakers, NGOs, recyclers and investors to collaborate, remove barriers and identify opportunities on the road to sustainable transformation.
To learn more or register, visit https://www.packagingsummit.earth/amsterdam2023/.
If you liked this article, you might also enjoy:
The L'Oréal approach to packaging sustainability
What steps is Apple taking to make its packaging more sustainable?
How did Brazil achieve its 100% aluminium can recycling rate – and can it be replicated in the EU?
Experts have their say on the EU's Packaging and Packaging Waste Directive revisions