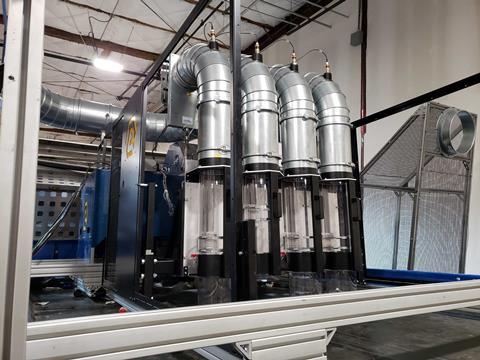 Next in our Finalist Interview series for the Sustainability Awards is AMP Robotics with AMP Vortex, its AI (Artificial Intelligence) powered automation system for film removal and recovery in recycling facilities. We spoke to the company about this entry, nominated in the commercialised Machinery category.
You're a finalist in the Sustainability Awards 2023. Congratulations! To start off, could you summarise your entry, in less than 50 words?
AMP Vortex is the waste and recycling industry's first artificial intelligence (AI) powered automation system for plastic film removal and recovery. Vortex reliably and consistently identifies film and flexible objects, then uses an automated vacuum tube to capture and remove the material, depositing it in a configurable location.
Why do you think the judges were impressed with your entry? Tell us about what is innovative about your project and/or about its impact on packaging sustainability.
AMP already has a fleet of hundreds of recycling robots, but this is the first system it has designed specifically for the recycling industry. The company integrates its software with Omron robots in its flagship Cortex robot, but Vortex represents a homegrown application that solves a common challenge by combining AI with recycling-specific automation.
Vortex is a first-of-its-kind innovation for recycling facilities, and it's just the beginning of AI-enabled sorting mechanisms specific to the recycling industry rather than adopted from existing robotics domains. AI enables new types of sorting devices for the recycling industry. It's laying the groundwork to reduce the contamination burden on recycling facilities and scale the recycling of film and flexible packaging. The company is expanding the set of materials that are readily recyclable, as well as paving the way for new recycling technologies that can accept these materials.
How has your innovation/initiative been received?
AMP is fielding strong interest in Vortex, as there's no recycling facility that doesn't have a problem with film somewhere in the system, if not in multiple places. AMP began installing these systems in the first quarter of 2023, and one deployment is planned in the company's own secondary processing facility funded through a grant from The Recycling Partnership.
AMP also raised nearly $100 million in corporate equity in a Series C financing, led by Congruent Ventures and Wellington Management as well as new and existing investors. The investment is furthering AMP's ongoing development of AI-enabled automation applications for recycling like Vortex; it also validates the role of advanced technology and innovation in addressing the challenges of recycling, and the conviction private investors have in elevating business models focused on increasing recovery rates and scaling landfill diversion.
You're shortlisted for the Machinery category. What do you see as the key sustainability demands and challenges confronting the engineering for converting and packing?
Recycling involves infinite variability in the kinds, shapes, and orientations of the objects found on a conveyor belt. Training a neural network to detect objects in the recycling stream is not easy—but it's an entirely different challenge when you consider the physical deformations that these objects can undergo by the time they reach a recycling facility. They can be folded, torn, smashed, or partially obscured by other objects.
This challenge is mirrored in the robotic grippers, where you need to be able to handle an unbelievable variety of different form factors and types of damage to the packaging. There's also the challenge of staying up to date with the continual changes in consumer packaging. Any mechanism that relies on visual observation to learn associations between packaging and material types will need to consume a steady stream of data to ensure that objects are classified accurately.
What do you think are the main opportunities in this area or what future innovations do you predict in this area?
The current MRF (Materials Recovery Facilities) infrastructure is insufficient to capture the billions of dollars worth of recyclables that go unrecovered annually, and its high-cost burden compounds this problem—making recycling economically unfeasible in many geographies. Advanced technology can influence not only sorting processes within the current MRF infrastructure, but the design of AI-powered facilities to increase efficiency and recycling capacity, prevent loss of recyclables to landfill, and supply greater volumes of post-consumer recycled content.
AI systems continue to grow stronger, smarter, and more robust, making it possible for technology innovators to offer a comprehensive facility solution to waste and recycling companies. This next-generation infrastructure powered by AI and automation dramatically lowers the cost of recycling while maximising yields in terms of both recovery and quality. These advancements in technology are allowing recyclers to target additional, potentially dirtier feedstocks and can help expand recycling access to rural and underserved communities.
The winners of the Sustainability Awards 2023 will be announced at the Sustainable Packaging Summit, which takes place in Amsterdam on 14-15 November. The Summit mobilises leaders of the FMCG value chain, policymakers, NGOs, recyclers and investors to collaborate, remove barriers and identify opportunities on the road to sustainable transformation.
To learn more or register, visit https://www.packagingsummit.earth/amsterdam2023/.