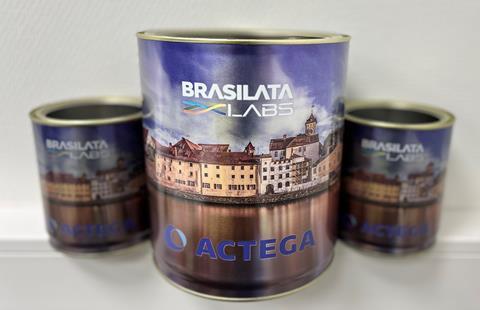 Our next Finalist Interview ahead of the Sustainability Awards is with Ömer Yagci, head of strategic marketing at ACTEGA about the UV coating solution from ACTEGA do Brasil, Brasilata Labs and Plasmatreat GmBH, 'UV DIRECT TO METAL', nominated in the commercialised Climate category.
You're a finalist in the Sustainability Awards 2023. Congratulations! To start off, could you summarise your entry, in less than 50 words?
We are thrilled to be in the Top 5 for the [commercialized] Climate category. It is a gratifying recognition of our immense efforts and drive for innovation at ACTEGA to make the field of metal packaging more sustainable and increase environmental protection.
Why do you think the judges were impressed with your entry? Tell us about what is innovative about your project and/or about its impact on packaging sustainability.
With UV DIRECT TO METAL, we succeeded in developing a solution that for the first time allows the UV coating to be directly applied to metal (that has been pre-treated with atmospheric plasma technology from Plasmatreat GmbH). As a result, UV DIRECT TO METAL represents a major advance in terms of sustainability, because solvent-based coatings can be replaced by more efficient and sustainable UV systems.
Instead of drying the coating in gas ovens, the UV coating is dried with UV lamps that only require electricity. This brings enormous energy savings. Therefore, the innovative procedure allows faster production, results in lower costs and around 40% less CO2 emissions as well as lower VOCs [volatile organic compounds] compared to solvent-based varnish systems.
How has your innovation/initiative been received?
UV DIRECT TO METAL is the result of a cooperation between ACTEGA do Brasil who provides the UV coatings, Brasilata Labs who is responsible for the manufacturing process and Plasmatreat GmbH with its expertise in plasma. Brasilata, the parent company of Brasilata Labs, is already using this technology commercially.
The technology is gaining more popularity and further qualifications for general line can manufacturers are ongoing. Furthermore, the technology was awarded with the The Canmaker Gold Award in Sustainability by a jury of experts in the metal packaging industry.
You're shortlisted for the Climate category. What do you see as the key demands and challenges in relation to reducing carbon emissions from packaging and packaged goods?
It's important to remember that the packaging industry operates in a complex environment – it's the most regulated industry in the world. This includes aspects such as packaging specifications, recyclability, biodegradability, expected primary use, labelling and traceability, raw material sourcing and disposal.
This complexity is compounded by the fact that regional and national levels often have very different priorities and approaches, especially when it comes to direct food contact. All of this makes sustainability a difficult but indispensable task for our industry.
Today, 75% of metal packaging is recycled in Europe, making metal packaging among the most recycled forms of packaging. While the packaging sector is increasingly under scrutiny due to the general environmental impact, it must also be considered that primary packaging significantly contributes to the protection of the filling goods over the shelf life. We need to ensure that packaging materials are used as efficiently as possible. Our coatings, inks, sealants and compounds for metal packaging contribute to this goal.
What do you think are the main opportunities in this area or what future innovations do you predict in this area?
There is no question that packaging is necessary for the protection of the filling goods and the packaging industry has become a powerful example of mobilizing solutions to climate change. In the metal packaging sector, ACTEGA is moving into a more sustainable packaging sector and our solutions contribute to the protection of the contents, with a focus on sustainability.
For example, PVC-free solutions for closures or water-based sealants for cans have been developed, as well as our innovation for applying sustainable UV coatings directly onto metal to further increase sustainability. Designing for circularity is an important aspect that needs to be considered when it comes to packaging. Metal packaging ensures a closed material-to-material loop.
There are also solutions in other types of packaging such as PET, but there are too many packaging variants that prevent its consideration in a material loop. In my opinion, solutions are needed for this. It is important to develop innovative solutions to reduce waste and that is exactly what the entire industry is working on. In addition, consumers are more aware and are demanding sustainable packaging, and in the future, there will be more legal regulations that influence packaging.
The winners of the Sustainability Awards 2023 will be announced at the Sustainable Packaging Summit, which takes place in Amsterdam on 14-15 November. The Summit mobilizes leaders of the FMCG value chain, policymakers, NGOs, recyclers and investors to collaborate, remove barriers and identify opportunities on the road to sustainable transformation.
To learn more or register, visit https://www.packagingsummit.earth/amsterdam2023/
If you liked this article, you might also enjoy:
The L'Oréal approach to packaging sustainability
What steps is Apple taking to make its packaging more sustainable?
How did Brazil achieve its 100% aluminium can recycling rate – and can it be replicated in the EU?
Experts have their say on the EU's Packaging and Packaging Waste Directive revisions