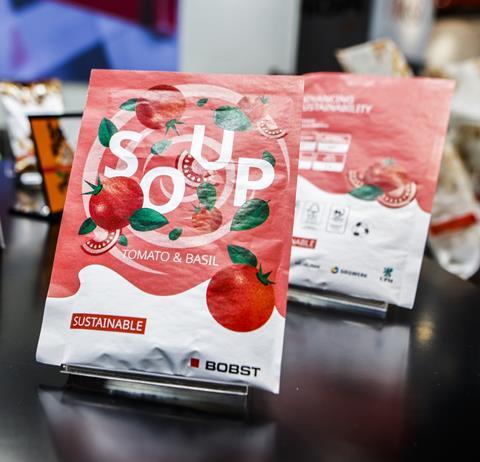 Our latest Finalist Interview ahead of the Sustainability Awards is with BOBST about its oneBARRIER FibreCycle paper-based flexible packaging, nominated in the pre-commercialised Recyclable Packaging category.
You're a finalist in the Sustainability Awards 2023. Congratulations! To start off, could you summarise your entry, in less than 50 words?
oneBARRIER FibreCycle is a joint development of high-barrier paper-based flexible packaging structures recyclable in existing paper/board waste streams, produced through a comprehensive process aimed at optimum product protection that maximizes quality, sustainable operation, productivity, and market acceptance, whose perfect end-to-end integration reduces the risk of defective packaging substrates.
Why do you think the judges were impressed with your entry? Tell us about what is innovative about your project and/or about its impact on packaging sustainability.
In the light of concern over plastic waste, the escalation in sustainability requirements in the flexible packaging industry has determined a shift of demand towards more paper-based options. The oneBARRIER FibreCycle with AluBond structure developed by BOBST with partners UPM Specialty Paper and Michelman fulfils multiple requirements.
It is a high barrier recyclable paper solution that is a viable alternative to non-recyclable multi-material structures based on metallized PET. During development, the substrate passed all the tests and trials on wide-web industry scale machinery and laboratory analysis; from papermaking through to the reels of packaging in terms of barrier performance with aging, barrier durability (RH impact and fold testing) during subsequent converting operations and structure recyclability.
The final structure has been independently assessed. Papiertechnische Stiftung (PTS), the German research institute of the paper industry has assessed the oneBARRIER FibreCycle high-barrier paper packaging structure with AluBond metallization as 94.4% recyclable. It also passed the European Harmonised Laboratory Test Method (CEPI/4evergreen) with a score of 88/100 for standard mill recycling. Both methods (PTS and 4evergreen) were tested by PTS.
This project has generated a wider impact on sustainability. The combination of the partners' strength and expertise across the value chain has enabled BOBST and partners UPM and Michelman to characterize and validate the FibreCycle solutions at every stage of the process, including: paper production; developing the right chemistry for the primer and the heat seal topcoat; and selecting the best-suited wet and vacuum coating methods along with the substrate machinability for further processing, without compromising the barrier, optical or mechanical functional properties.
When and how do you intend to launch/commercialize this innovation?
The oneBARRIER FibreCycle packaging substrate is an industrialized solution already available to converting companies that can equip their operations with the comprehensive process. It enables BOBST customers to fast-track their packaging development phase in creating more circular paper/fibre-based solutions, in addition to helping reduce their time-to-market and support waste reduction and resource circularity.
You're shortlisted for the pre-commercialized category for Recyclable Packaging. What do you see as the key demands and challenges in relation to design for circularity in packaging?
We entered in the pre-commercialized category for Recyclable Packaging as a "broader initiative/project", and the oneBARRIER FibreCycle is a viable solution for converters as it fulfills the demand for high-barrier recyclable paper packaging with the same performance as incumbent non-recyclable structures. The greatest part of the packaging environmental impact is at the design stage which determines the end-of-life options - how it can be used, re-used, recycled or re-purposed, while its circularity is found further down the value chain.
A holistic approach to the impact of packaging's life cycle throughout the supply chain is the industry's way forward, given the complexity of developing sustainable solutions to implement more recyclability in packaging and improve their environmental footprint. BOBST sees two major issues that the flexible packaging industry is confronted with today: the circular economy in packaging and the transformation of the production workflow to support it. The two are strictly correlated and a successful transition/transformation must support both conditions.
The new substrates, whether polymer or fibre-based, differ from a processability and performance perspective. In general, they have inferior mechanical, thermal and barrier properties, reducing the protection they offer and therefore the products' shelf-life. This makes it imperative to ensure the perfect interaction and integration of elements and each stage of the production process in terms of materials, consumables, equipment, mechanical and electronic components, connectivity and waste streams.
The objective is to ensure the output is of the best quality in terms of functionality, attractiveness, and safety; the process is the most efficient, productive, and profitable; both the packaging and the process are the most sustainable and workable in terms of being produced on industrial scale; and are compliant with recyclability guidelines and legislation.
What do you think are the main opportunities in this area or what future innovations do you predict in this area?
The circular economy of packaging, especially plastic, is the main driver of innovations and opportunities. Monomaterial is replacing multi-material and there are new developments in high barrier films through coating, combined with consumables like lamination adhesives that add more functionality to substrates.
At BOBST, through collaboration with partners we develop integrated processes for the production of high barrier recycle-ready packaging covering all options: FiberCycle relates to paper-based packaging but there is also PrimeCycle for polymer-based packaging where valid industrialized structures already exist (PrimeCycle AlOx high barrier PE monomaterial substrate has been certified as 98% recyclable by Institute cyclos–HTP GmbH) and we are also looking at compostable solutions.
A strong bearing on development also comes from regulations and infrastructure relating to packaging end-of-life and recyclability and the industry must be equipped and ready with solutions that comply with them.
The winners of the Sustainability Awards 2023 will be announced at the Sustainable Packaging Summit, which takes place in Amsterdam on 14-15 November. The Summit mobilizes leaders of the FMCG value chain, policymakers, NGOs, recyclers and investors to collaborate, remove barriers and identify opportunities on the road to sustainable transformation.
To learn more or register, visit https://www.packagingsummit.earth/amsterdam2023/.
If you liked this article, you might also enjoy:
The L'Oréal approach to packaging sustainability
What steps is Apple taking to make its packaging more sustainable?
How did Brazil achieve its 100% aluminium can recycling rate – and can it be replicated in the EU?
Experts have their say on the EU's Packaging and Packaging Waste Directive revisions