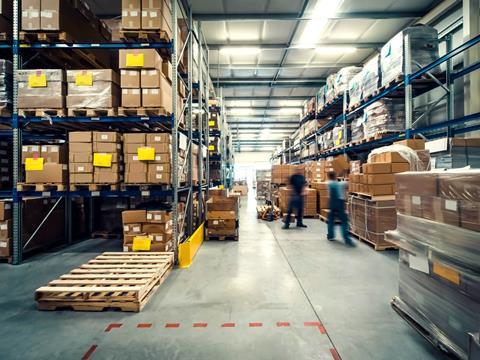 SCALIZE is a software as a service (SAAS) solution aimed at bringing together project teams across the fast-moving consumer goods (FMCG) packaging design process, providing automated analysis of packaging dimensions to help reduce material costs and enhance sustainability.
We spoke with Robert Hughes, co-founder of SCALIZE, to find out more about how SCALIZE is supporting brands through merging and optimising the packaging development process.
The scale of the challenge
The FMCG segment is facing a significant challenge: material shortages, higher material prices, growing pallet and warehouse charges, and the introduction of recyclability targets by the EU has caused a spike in costs that brands risk passing on to consumers. For example, 4evergreen has set the target of reaching a 90% recycling rate for fibre-based packaging by 2030, while the SUPD aims to reduce plastic packaging by at least 20% (based on weight) with 2025 at the deadline. Some organisations have also called for the EU to instate a mandatory recycled content target of 30% for packaging, which could further push up prices. Gartner Inc. has reported that approximately 90% of public sustainability claims made by companies, many involving changes to packaging, will not be met by 2025.
Founded in 2021 by Robert Hughes and Jan Mammen, SCALIZE offers a SAAS cloud-based application intended to make the process of reconfiguring packaging simpler and smoother for brands. "With the increased costs of recycled materials, many FMCG companies are reducing primary packaging weight to stabilise their margin and price at trade," Hughes observes.
Changes to packaging by as little as a few millimetres can make a difference to economic and environmental outcomes, but the time restraints and complexities of calculating all possible options before development make this largely unfeasible. This means that problems can arise later in the process, when the package is already in action, potentially resulting in delays and additional costs.
"The current tools available to packaging developers can't identify optimal design dimensions […] after a design is final," Hughes explains. "Today there is no other solution, only tools for certain phases of the process but can't incorporate cross-functional requirements, especially those coming from the sales team. [This is] why many brands are far off the 95% pallet efficiency target."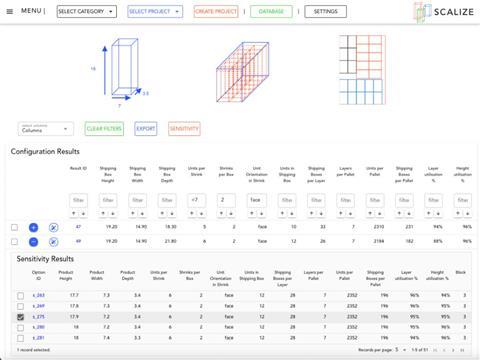 The optimisation process
SCALIZE aims to fill this gap. According to Hughes, "SCALIZE automates the analysis of primary and secondary packaging, optimizing design dimensions and shipping configurations to accelerate and improve packaging development. Project teams can evaluate in real time how packaging dimensions impact manufacturing, logistics and trade, and optimal changes to dimensions are identified that meet requirements along the whole value chain."
Brands can subscribe to SCALIZE as an online project management tool, with cloud-based data accessible to different teams and available for use during meetings. The first step of the process involves entering the parameters (such as height, weight, and volume) of a chosen product, alongside a reference shipping box and pallet with alterable tolerances.
Results are then instantly calculated, with supporting visual graphics and tables, to give multiple options for packaging dimensions. In phase 2, brands can see how efficient different dimensions are in terms of pallet layers and height utilisation, with the option of returning to the configuration stage to alter the parameters if targets are not initially met.
"This optimization includes a sensitivity analysis on product volume, finding small changes to designs to ensure 95% or better layer efficiency on pallets, as well as optimal shelf impact in markets," Hughes adds.
In the final phase, brands carry over dimension choices into the decision-making process, where different dimension options can be viewed through a virtual rendering against competitor benchmarks on shelves. The options can then be ranked by different members of the team. Cost and CO2 savings are shown in this phase, to aid with project approval requests.
A database is also generated for access by brands to harmonise product lines and facilitate goal setting. Hughes says: "Brands can also manage their revenue growth management and assortment complexity strategies better, analysing packaging shapes and sizes across markets for filling volume and packaging component synergies."
Collaborative benefits
"SCALIZE improves and integrates into the phase and gate development process, updating the current way of working of project teams and ensuring faster and better packaging development and project investments," Hughes tells us. "This is both a process innovation and automatization, saving at least a month from average time to market and enabling close, cross-functional project collaboration with updatable analysis through all project phases."
For brands, SCALIZE offers a holistic approach to packaging configuration that combines convenience with material and time savings, with the potential to boost revenue. It also helps brands to optimise packaging in line with environmental commitments while maintaining their on-shelf presence.
"Reducing packaging weight will likely lead to smaller and lighter containers and closures, and SCALIZE aims to help packaging maintain as much brand recognisability and stability on shelf as possible for the first moment of truth," Hughes tells us.
As for the sustainability benefits, Hughes adds: "Directly, we hope to help FMCG companies save hundreds of tonnes in CO2 from reduced pallets transported, as well as indirectly when speeding up projects towards their sustainability commitments for 2025." Overall, SCALIZE can help to streamline the journey of a product from the factory through to the consumer via small but significant changes to packaging, helping to contribute to a more sustainable supply chain.
"SCALIZE also hopes to support FMCG companies bring more refill concepts to consumers, where the margins have often been tougher vs. single use products, via analysis of formats, components, and product volume," notes Hughes. The move to refillable packaging options appears to be an expanding trend in the packaging industry, with more possible applications emerging – such as a 'world first' refillable toothpaste, set to be released later this year. From a sustainability perspective, refill options could reduce the amount of virgin materials entering the value chain, while design optimisation will likely be key to ensuring the longest possible lifecycle for refillable packaging.
What's next?
On the future of SCALIZE, Hughes says: "We will continue to build must have features based on developer feedback, in our focus to speed up and improve their projects, and will connect to packaging suppliers with new features to enable further sustainability and value for FMCG."
The next year will be an important time for SCALIZE. "We prototyped and tested our SCALIZE application idea with packaging developers throughout 2021 and have first client projects planned in Q1 2022," Hughes concludes. "We hope to support as many packaging teams as possible, whether small or large, with our Software-as-a-Service cloud-based application."