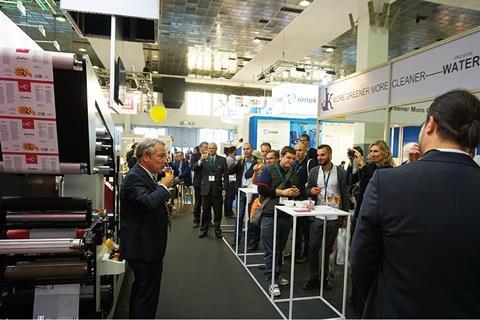 During Labelexpo Europe, from September 25 to 28 in Brussels, EyeC presented its complete product assortment of inspection systems for the quality assurance of labels and flexible packaging throughout the entire production process.
On September 26, EyeC also celebrated its 15 year anniversary and invited business partners and customers to a cocktail reception at their largest-ever exhibition booth, followed by an appreciation dinner.
Notably, label and flexible packaging printers from all over the world visited EyeC during the exhibition and showed great interest in the company's in-line solutions. The EyeC ProofRunner checks print quality even on the fastest rewinder, and ensures the delivery of flawless labels and flexible packaging. Furthermore, EyeC noted a large number of requests for the EyeC Quality Link, which connects print machines and rewinders for maximum productivity. In addition, the new EyeC Workflow Integration generated great interest in exhibition visitors. The solution automates the PDF inspection in the pre-press stages by integrating the EyeC Proofiler Graphic inspection software into workflow systems such as the Esko Automation Engine. EyeC makes it possible for its customers to have an individualized integration of quality control in their workflow system.
"We are proud that we can offer our customers inspection solutions for their most modern workflow systems, machines, and technology throughout their entire production process," says Dr. Ansgar Kaupp, CEO of EyeC. "We thank our customers for their close cooperation which help us deliver individualized and user-friendly solutions. EyeC will continue to provide innovative and customer driven inspection solutions."
More info: