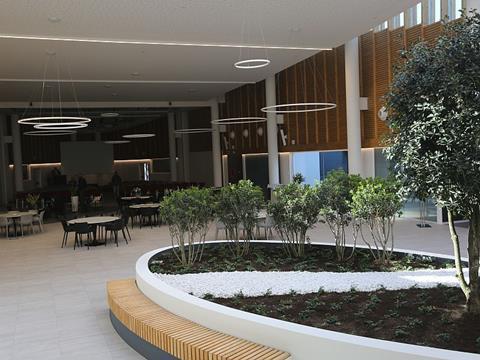 Packforum EMEA will help our customers utilize materials, products and solutions that will ultimately provide them with superior protection while at the same time leaving a smaller footprint on the environment.
Sealed Air believes strongly in setting an example by collaborating to build a waste-free future. In 2018, we announced a bold sustainability and plastics pledge to design and advance our packaging solutions to be 100% recyclable or reusable by 2025. We will work toward this goal by accelerating the use of recycled materials, expanding reuse models for packaging and leading worldwide partnerships to ensure execution.
As a company, our material investments offered to our customers is an expanding portfolio of sustainable solutions including food packaging made from Plantic™ (a plant-based starch) and EcoPure (a plant-based foam). Our Cryovac® Darfresh® skin packaging options are also made with recycled PET materials and curbside recyclable temperature assurance solutions.
Where does Sealed Air stand on the current debate around reducing plastic packaging/guaranteeing food safety/reducing the carbon footprint?
We support efforts to curtail and eventually stop the disposal or littering of plastic materials into the environment, especially in landfills and oceans. As a leader in the packaging industry, we recognize our responsibility to the environment and take that seriously. We're actively championing solutions to mitigate environmental impacts of food waste with more sustainable protective materials and at the same time working to reduce the use of packaging that is not recyclable or renewable.
In addition to our Sustainability and Plastics pledge, we're also advocating for collective action through partnerships and are engaging with multiple organizations like the Alliance to End Plastic Waste, the Ellen MacArthur Foundation and The Chemical Recycling Alliance.
What would you consider to be the particular challenges of omnichannel packaging, and how does Sealed Air address them?
Not only is the volume of e-commerce increasing but so are the demands for small, one-off orders that can be delivered within two days. More orders being made more often can put a strain on fulfillment operations. The goal is to minimize the touch time. The sooner an order can be built, the sooner the customer can receive it. The less touch and transportation time, the less chance there is for damage before the order is shipped. Optimizing the entire supply chain in building an order is the key to success and rethinking the box is a good place to start.
For many businesses, the source of hidden costs is found in boxes. Corrugated boxes are time-intensive to handle, expensive to store, increasingly costly to buy, and oftentimes full of empty void. Introducing carton alternatives and automated right-sizing capabilities into an operation will enable companies to unlock labor efficiency, freight savings, and warehouse space.
Sealed Air provides alternatives to outer boxes that can improve business and customer experience:
There's no need to send a box when a shipping mailer will do. Mailers are now stronger and more protective than ever and are suitable for a wider range of products. Automated, custom-sized polyethylene mailers have proven to be the perfect solution for apparel and other soft goods. An added benefit to mailers is, unlike boxes and other rigid containers, mailers can often be placed inside mailboxes rather than left on doorsteps.
Cases where a product's primary package is sturdy enough such as dry goods that have an effective outer package or consumer packaged goods that are sold off the shelf in heavy cardboard boxes, a corrugated box isn't needed at all. Instead, an opaque, durable plastic film can cover the original package. When applied, the film shrinks and adheres to the dimensions of the product.
For those products that require a box, the box should be cut to the right size for each order. Right sizing can be done with automated equipment which will speed up the packing process, eliminate waste, avoid dimensional weight, and make labor more efficient. The machines give companies more flexibility to use labor in ways that will drive efficiencies.