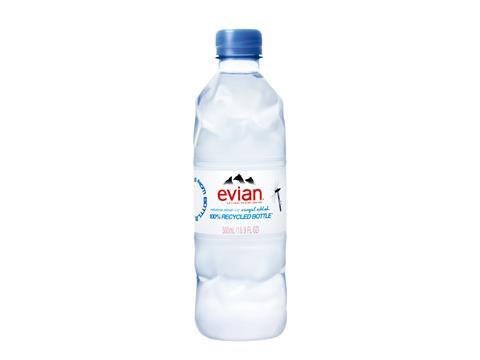 Evian has today revealed its latest design by Virgil Abloh, CEO of fashion label Off-White and artistic director at Louis Vuitton.
Abloh, who is also Evian's creative advisor for sustainable innovation design, has made the addition of a hammered design effect, in which the indentation marks are suggestive of the previous life of the bottle.
The design, which is fully recyclable and features a body made from 100% recycled PET, will be available at select outlets including Curator Hotels and Resorts from March 2021.
Commenting on the new project, Abloh said: "It was a real challenge to take on the redesign of the Evian bottle; an image which is so commonplace in our culture. I wanted to create a shape that was as iconic as the Evian brand, whilst representing how the product has been reinvented using old bottles.
"My new hammer motif reflects how this new design has been reconstructed from waste materials, which in itself was a whole new challenge, and a new step in my partnership with Evian. It is now more important than ever to practice sustainability; I believe we all have the power to challenge the status quo and to change our future for the better."
Shweta Harit, VP of marketing at Evian, added: "We are honored to be able to work with Virgil Abloh again to launch his first Evian design made from 100% recycled materials. This announcement follows the 100% rPET range which was launched across European markets in September, and our first-ever label-free bottle which was released earlier this year in France.
Each of these innovations is a real example of how we are continuing to evolve the way we package our uniquely-sourced mineral water."
In early 2020, Evian announced that it had received carbon-neutral certification from the Carbon Trust across all the countries where it has a presence. The Danone-owned company hopes to have implemented what it describes as a "100% circular approach" by 2025.