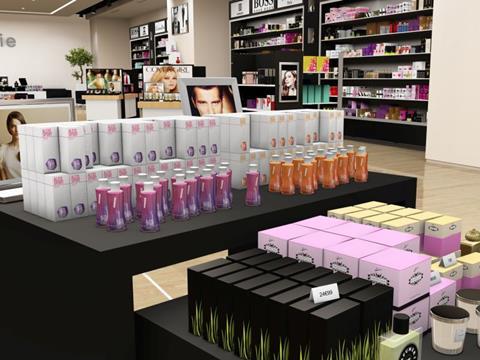 Esko, the global leader in software solutions for packaging brand management, design and prepress, announces it will be exhibiting at interpack, the international trade show for the packaging industry and related process technologies, scheduled for 4-10 May in Düsseldorf. Esko will be located in Hall 6, where it shares stand A01 with its sister companies VideoJet, Laetus and X-Rite Pantone.
"Esko is dedicated to solving business issues faced by brand owners, premedia companies and packaging converters as they feel the pressure of the demanding and rapidly changing world of packaging," says Niels Stenfeldt, VP EMEA & Global Brand Owner Sales at Esko. "Together with our Danaher partners, we will be presenting a full range of innovative solutions that address global packaging management challenges across a complex global production supply chain. These challenges include:
Avoiding recalls because of packaging misprints or incorrect regulatory content;Gaining convenient, reliable access to up-to-date digital assets;Shortening long approval cycles;Ensuring traceability and packaging protection;Remaining sustainable;Guaranteeing brand color consistency on different types of packaging substrates;… and so much more.
Esko and Danaher family solutions tackle such challenges with measurable impact, enabling brands to gain better control of their packaging production and their go to market practices in general, while helping partners across the supply chain, including premedia houses and converters, be more efficient."
Color Consistency assures qualityAt the Esko stand at interpack, visitors will learn how to better manage brand color accuracy and consistency across the global supply chain – from proof to package to display – in a smart and comprehensive manner with the ability to leverage the benefits of fixed color palette printing using dedicated color solutions including Esko Equinox and other Danaher solutions. Using X-Rite Pantone's ColorCert Suite, brands and converters can remotely monitor color consistency in real-time across a global base of suppliers, reducing rejects and the need for on-site press checks and improving overall color quality. By taking advantage of PantoneLIVE, brands can securely and reliably provide access to a cloud-based library of digital color specifications to authorized stakeholders to remove ambiguity from the communication of color across even the most complex supply chain, and converters can better manage ink inventories and color consistency. Pantone representatives will also be on hand to discuss the latest tools and color references available from the world's acknowledged expert in color.
Esko color solutions can be deployed in all packaging and label print technologies: flexo, digital, offset and gravure.
Hitting brand colors with digital printAt interpack, Esko will also be featured in the HP stand, demonstrating how Esko solutions integrate with HP SmartStream and the HP Indigo workflow to ensure accurate reproduction of brand colors using a fixed palette of digital toners as well as offering HP Indigo customers the ability to print color-accurate files using CMY only, without the need to use black toner, increasing throughput and reducing cost.Flexo printing innovations.
Esko will present its leading and highly innovative solutions for producing high quality, consistent print results with flexographic printing, the most cost-effective print technology for the packaging industry. Packaging converters visiting the Esko stand will see the stunning results that are achieved with labels, folding cartons, and flexible and corrugated packaging using Esko's broad array of flexo tools and solutions, including its award-winning CDI Crystal 5080 XPS flexo platemaking solution that reduces the number of steps and overall footprint required to produce the highest quality flexographic plates.
3D Design for faster approval and go-to-marketBrand owners and retailers will see how they can experience the highest possible realism during the packaging development process by using Esko's 3D technologies, including ArtiosCAD, Studio and Store Visualizer, to present hyper-realistic 3D images of packages from design through consumer testing to palletizing and positioning on store shelves.
Sustainable Logistics through smart designVisitors to the stand will also learn how to reduce costs with sustainable packaging by using Esko Cape solutions to optimize packaging logistics throughout the supply chain – including secondary packaging, palletization, and loading of trucks and containers."Our interpack team is prepared and looks forward to attending the show," Steinfeldt concludes. "We're excited about the opportunity to start conversations with brand and packaging professionals about how Esko solutions can help them improve their operations. We will have brand management and product experts on hand to inform visitors how Esko and its partners address the challenges they are facing with proven solutions that live up to our tagline: Packaging Simplified. We are also looking forward to the opportunity to discuss visitors' business requirements in detail to inform future product development."
More info: