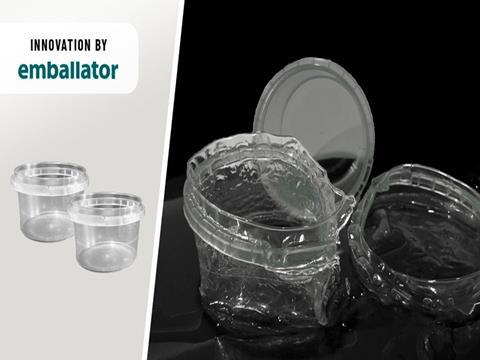 Packaging solutions manufacturer Emballator has announced its new water-soluble packaging made from polyvinyl alcohol (PVOH), which can dissolve after use, in a bid to "reduce plastic waste".
PVOH is a polymer with a carbon, hydrogen, and oxygen base that dissolves upon contact with water. According to Emballator, PVOH can be converted into water and carbon dioxide by bacterial microorganisms in the environment.
Christian Olsson, material specialist at Emballator Innovation Center, says: "Many naturally occurring microorganisms have the ability to degrade PVOH, when it's put in soil, sea or wastewater, without leaving any harmful residues, such as microplastics, but only carbon dioxide, water, and biomass."
POVH already used in other applications, such as dishwasher tablets that dissolve during the wash cycle. The Emballator Innovation Center set out to discover whether it was possible to use PVOH for applications in its portfolio.
Emballator claims that its first injection moulded container holds 60ml. When filled with water, the container is apparently dissolved overnight in a refrigerator.
The company adds that PVOH is available in a range of grades – for example, some are soluble in cold water while others, in hot water – which Emballator says will enable it to customise its rigid containers to specific customer needs.
According to Mats Jeppsson, innovation manager at Emballator Innovation Center: "With a great barrier that extends shelf-life and the ability to dissolve in low temperatures, the main use is for dry products.
"This material can keep spices and dry goods fresh. Also, for other applications with mainly dry content with a need for a more rigid packaging for a one-use dose, it´s perfectly suitable."
This innovation is part of Emballator's ongoing commitment to sustainable packaging solutions across applications. This year, Emballator pre-launched its 100% aluminium monotube prototype and revealed a new range of recyclable tubes made from post-consumer recycled aluminium, suitable for applications in cosmetics, healthcare and food segments.