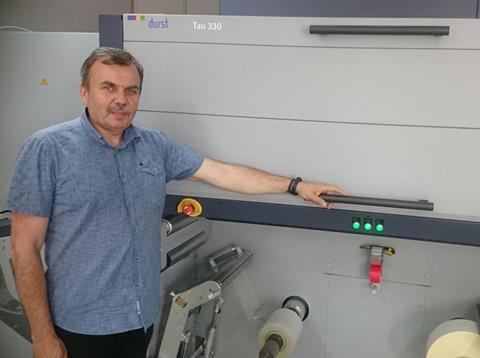 Durst, the manufacturer of advanced digital production technologies, has secured its first sale of a Durst Tau 330 in Ukraine.
EKKO, one of Ukraine's biggest label-making companies, which celebrates its 25th anniversary in 2017, describes itself as the "oldest company" in the independent Ukraine. From five people at the start, more than 80 staff are now employed at EKKO that turns over €2million annually. The Tau 330 platform at EKKO features a 330 mm (13 in.) print width, 5 colours (CMYKW) and offers printing speeds of up to 48 linear meters/min (169 ft./min) with up to 1260 dpi print resolutions. The press features leading edge production capacity and print quality.
"Digital printing is a good investment and can complement and help flexo and screen business grow," says Volodymyr Drabyk, General Director of EKKO, the specialist producer of self-adhesive labels in reels. "Our digital business at the moment is around 5% of the total, and with this investment in the Durst Tau 330 it will be around 20-30% of our work in five years. However, it is difficult to predict accurately because of the political and economic uncertainties."
"What is sure is that we have already helped our customers grow together with Durst. As an example, a new producer of stewed vegetables and fruit products in Ukraine with a wide product range was not ready to invest in flexo plates which are necessary for flexo printing, and couldn't guarantee big volumes at the beginning as they didn't know whether it would be successful. So they started the process digitally on the Durst, entered the marked and start to grow and widen their product range with private labels without big investments, which usually are a big problem for a new producer. The Durst allows us to launch potential big products at low cost and no risk."
Crucial to EKKO's decision to invest in the system was the extremely competitive total cost of ownership. "Prices in Ukraine are dramatically different to anywhere else in Europe – at least 10% cheaper, usually much much more," said Mr Drabyk. "So pricing was an extremely important consideration. The other impressive characteristics are the quality and speed of printing, as well as equipment maintenance and after-sales service.
"I have spent many years researching the market, including spells overseas in the United States of America, and I visited several customers and also other manufacturers of digital equipment before choosing Durst. We have never looked back – it has been a fantastic investment and it is definitely helping to build our business.
"Durst and its agents LFP Industrial Solutions provide first-class consultation, service and specialist knowledge. It is a mutually beneficial business partnership."
Helmuth Munter, Segment Manager Labels and Packaging Printing for Durst, said: "EKKO has seen unprecedented growth opportunities since investing in UV inkjet digital technology. This speaks volumes, as does the fact that its customers are making specific requests for their work to be done on our systems. We're proud to be supporting with help from LFP from Poland as they grow their business using our world-class technology."
More info: